Buy Lantus Insulin Online | Lantus Insulin Medications From Canada
SAVE 10% OFF First Orders with Coupon Code: WELCOMEPB10
Product Details
What is Lantus
Insulin (insulin glargine)?
Diabetes is a disease in which either the body produces insufficient insulin or the body cannot utilize the insulin that is produced. If your body does not produce enough insulin, you may be required to use an external source of insulin. 
Lantus long acting insulin is a brand name for insulin glargine. Insulin analogs are man-made versions of naturally occurring insulin. Unlike mealtime insulin (known as bolus insulin), which has a rapid onset & is typically used to control blood sugar levels during meals. Lantus is considered a type of insulin known as basal insulin, or baseline insulin, which is released slowly. Both types of Lantus insulin are often used together in order to control blood sugar levels throughout the day.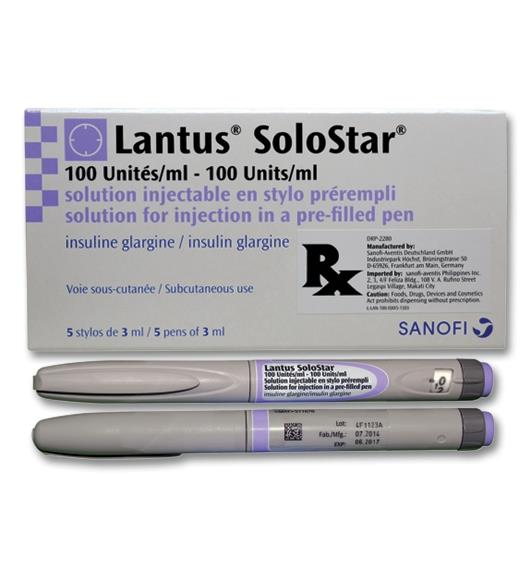 What Is Lantus Insulin from Canada Used For?
Lantus is used for the treatment of adults with type 2 diabetes and also adults and children aged six and older with type 1 diabetes for the control of high blood sugar. To control your blood glucose levels overnight and between meals, it supplies a steady release of insulin.
As part of the treatment with Lantus, mealtime insulin that is more rapid-acting may also be necessary to help reduce the effects of blood sugar spikes that are experienced during and following meals. Type 1 diabetes patients and adults with latent autoimmune diabetes are typically taking this medication in the evening or at night, while people with type 2 diabetes are rarely prescribed this medication. It is usually administered subcutaneously (under the skin) once daily. In the treatment of diabetic ketoacidosis, Lantus should not be used.
How to Take Lantus Insulin?
Your insulin dose depends on your natural insulin production and how well your body uses it. Your doctor or diabetes educator will tailor the right dose based on lifestyle factors and blood glucose monitoring.
Administration
Inject insulin glargine subcutaneously (under the skin) as instructed.

Do not inject into veins or muscles, and avoid using it in insulin infusion pumps.

Insulin is measured in international units (IU), with 100 IU in each 1 mL.

Typically, insulin glargine is injected once daily, often combined with fast-acting insulin to manage food-related blood sugar spikes.

There are various dosing approaches.
How Does Lantus
Solostar Pen
Work?
Similar to natural human insulin, Lantus controls blood sugar levels in the body. With its formulation of microcrystals that release insulin slowly, you can control your blood sugar throughout the day, ensuring a long-term baseline of insulin action that lasts up to 26 hours. With this medication, you can expect the level of insulin in your blood to increase steadily throughout the day without experiencing any spikes or peaks, as with other insulin analogs. Insulin analogs function similarly to the average secretion of insulin from non-diabetic pancreatic beta cells. 
Side Effects and Warnings
Some common side effects of Lantus Solostar pen:
Headaches

Weight gain

Injection site reactions

Upper respiratory infections

​​Lipodystrophy

Low potassium levels

Low blood sugar

Allergic reactions
Before taking Lantus medication, it is important to consider the following warnings:
Avoid Use in Certain Situations: Do not use Lantus if you have low blood sugar (hypoglycemia) or are experiencing diabetic ketoacidosis; consult your doctor for treatment.
Never Share Equipment: Sharing Lantus SoloStar pens or cartridges can transmit diseases like hepatitis or HIV. Always use your own, and never share with others.
Consistency Matters: Not all insulin glargine brands are the same in terms of dosing. When switching brands, follow your doctor's instructions, as your dosage needs may change.
Comprehensive Treatment: Lantus is just one aspect of your diabetes management plan. It works best when combined with a complete program, including:
Diet

Exercise

Weight control

Foot

Eye

Dental care

Regular blood sugar testing
Adhering to these routines is crucial for stable blood sugar levels. Any changes may impact your results.
Interactions
Several medications can affect your blood sugar, as well as Lantus, in the same way. Some medicines may increase or decrease the effects of insulin. Some medications may cause you to have fewer symptoms of hypoglycemia, which makes it more difficult to determine when your blood sugar is low. 
You should inform your health care professional about all medications you are currently taking, as well as any medications you begin or stop taking. Inform your physician of all other medications you use, including prescription & over-the-counter medications, vitamins, and herbal products. These interactions are not exhaustive.
Frequently Asked Questions
What is the reaction time of Lantus SoloStar?
While fast-acting insulin begins working in your body within 30 minutes of being injected, Lantus long acting insulin begins working in your body within 1.5 to 2 hours of being injected. This means that the drug begins to work in your body within 1.5 to 2 hours after you inject it.
Should Lantus insulin be taken at night or in the morning?
There is no set time of day when you should take Lantus. It should be used at the same time every day at the same time. As a general rule, pick a time of day that is convenient to you and when is easiest to remember.
How should I monitor my Lantus intake?
Using Lantus Insulin may lower potassium levels and potentially lead to hypokalemia (low potassium levels in the blood), which can affect breathing and heart rhythm. If left untreated, it can be fatal. Patients at risk for hypokalemia should have their potassium levels checked regularly during treatment and get treatment if needed.
Are there any guidelines regarding the dosage of Lantus insulin?
Type 2 diabetes (T2D) patients who are not currently taking insulin are recommended to take 0.2 units/kg or 10 units of Lantus once daily. People without insulin who are diagnosed with type 2 diabetes are recommended to start taking 10 units of Lantus once a day as a maximum dose.
Our Guarantee
Polarbearmeds.com will provide the lowest price for Lantus Insulin from Canada. We guarantee that your Lantus medications will be shipped from a trusted Canadian pharmacy that is licensed to fulfill your order directly to your door. To order Lantus Solostar pens, vials and cartridges online at a discounted price from a Canadian pharmacy, please call us at 1-888-779-2193 toll-free.
Reviews
Having trouble finding your prescription? Call us toll free at 1-888-779-2193 to speak with a customer representative. We ship all major insulin brands; quick, easy, and cheap.