Buy Apidra Insulin Vial from Canada
Product Details
What Is an Apidra Vial SoloSTAR?
An Apidra Insulin Vial is a pharmaceutical container that holds a specific amount of Apidra insulin solution. In people with diabetes, Apidra is a rapid-acting insulin analog used to control blood sugar levels. Each milliliter of insulin solution in the vial contains 100 units of insulin, with 10 milliliters containing 10 units. Injections are given subcutaneously. A vial contains a reservoir of insulin that can be used multiple times. Apidra Insulin Vial should be administered according to a healthcare provider's instructions.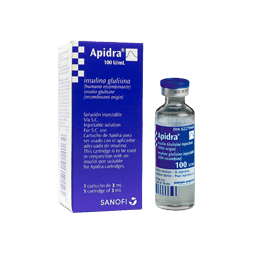 Dosage of Apidra Insulin Vial 
Your doctor will figure out the right amount of Apidra to give you based on things like your current blood sugar level, how you live, and your medical history. These vials are available in two different formats:
Apidra 10 mL vial:

Apidra 10 ml vial means that the solution is in a vial of Apidra insulin that is 10 milliliters (mL) in size. The volume measurement shows how much liquid is in the bottle as a whole.
Apidra 100 Units/mL Vial:

Apidra 100 units ml vial shows how much Apidra insulin is in the vial. It means that 100 units of insulin are in each milliliter (mL) of the fluid. Many insulin products have this amount of insulin per unit.
Administration of Apidra Insulin Vial 
Here is a step by step guidance to administer Apidra:
Subcutaneous shot:

Apidra is given by putting a shot under the skin, usually in the fatty tissue. Common places to give a shot are the stomach, the thigh, or the upper arm.

Preparation:

Before giving the insulin, make sure your hands are clean and get all the tools you need, like the insulin vial, syringe, and alcohol swab.

Vial Inspection:

Look at the Apidra Insulin vial to see if it is broken or has any particles in it. It needs to be clear and without color. If there are problems, you shouldn't use it and should talk to your doctor.

Air Bubble Removal:

Fill the syringe with the right amount of air and shoot it into the vial. This keeps a vacuum from forming while the insulin is being taken out.

Drawing the Insulin:

Turn the bottle and syringe upside down and make sure the needle is in the insulin. Pull the button back to get the right amount. Look for air bubbles and get rid of them if you find any.

Preparing the Injection Site:

Use an alcohol swab to clean the chosen injection site and let it dry.

How to give an injection:

Pinch the skin around the chosen site, put the needle in at a 90-degree angle, and slowly and steadily deliver the insulin.

Needle Removal and Disposal:

Gently pull out the needle, put a little pressure on the injection site, and put the needle in a sharps container.

Storage:

Follow the manufacturer's advice for how to store the Apidra Insulin Vial. It should usually be kept in the fridge but not frozen. After it has been used, it can be stored at room temperature for a certain amount of time.

Regular Monitoring:

Check your blood sugar levels as your doctor tells you to, taking into account things like what you eat, how active you are, and any changes to your treatment plan.
Warnings on Apidra Insulin Vials
Apidra may cause hypoglycemia (low blood sugar levels). 

Blood sugar levels may rise (hyperglycemia), requiring a dose adjustment.

If you experience rash, itching, or breathing difficulty, seek medical attention immediately.

Consult your healthcare provider before using Apidra during pregnancy or breastfeeding.

If you have liver or kidney disease, your dosage may need to be adjusted.
Side Effects of Apidra Insulin
The injection site may experience redness, swelling, or itching after receiving the Apidra Insulin Vial. Low blood sugar (hypoglycemia) can cause symptoms such as shakiness or dizziness. There is a possibility of allergic reactions, but they are rare. Seek medical help if you observe a rash, itching, or difficulty breathing. If you need advice tailored to your specific needs, contact your healthcare provider.
Apidra Insulin Vials Interactions
Certain medications may interact with Apidra Insulin Vials, including:
Metoprolol and other beta-blockers

ACE inhibitors include lisinopril

Diuretics containing thiazides (e.g., hydrochlorothiazide)

Prednisone (corticosteroids)

Medication for diabetes (e.g., metformin) taken orally

Ciprofloxacin, for example, is an antibiotic
Frequently Asked Questions
How can I adjust my Apidra Insulin Vial dosage?
Any adjustments to your Apidra Insulin Vial dosage should be discussed with your healthcare provider. Their recommendations will take into account your blood sugar levels, diet, and overall health. The self-adjustment of blood sugar levels without professional guidance can have serious health risks. Whenever you change your insulin regimen, seek medical advice.
Is it safe to use an expired Apidra Insulin Vial?
It is not recommended to use expired Apidra Insulin Vials. When a medication expires, its potency and effectiveness are guaranteed to be at their peak. It may cause health complications if expired insulin is used to control blood sugar.
Are Apidra Insulin Vials compatible with other insulins?
Apidra Insulin Vial should not be mixed with any other type of insulin without consulting with your healthcare provider. Despite the fact that some insulins can be mixed, others should not be combined due to potential interactions. Your doctor will help you with the correct technique and precautions to take when mixing insulins.
Can Apidra Insulin Vial be used in children and adolescents?
It is safe to use Apidra Insulin Vial in children and adolescents. The dosage and administration need to be decided by a healthcare practitioner based on your age, weight, and specific needs.
Our Guarantee
We guarantee that you will find the best price for Apidra insulin vials from Canada at Polarbearmeds.com. Apidra insulin vials are shipped directly to your door from a licensed Canadian pharmacy. Contact us at 1-888-779-2193 to purchase Apidra medication at a discounted price from a Canadian pharmacy.
Reviews