Buy Armour Thyroid Tablets Online From Canada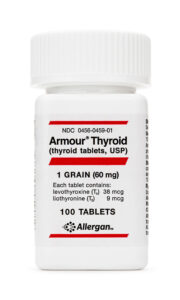 Product Description
What Are Armour Thyroid Tablets?
Armour Thyroid tablets are prescribed to treat hypothyroidism. Hypothyroidism is a state where too little thyroid hormone is produced by the thyroid gland. These tablets contain both triiodothyronine (T3) and thyroxine (T4) hormones, which are naturally found in the thyroid glands of pigs. As a result, Armour Thyroid is a natural desiccated thyroid (NDT) medication.
T4 and T3 hormones regulate energy production, temperature regulation, and cell growth in the body. Supplementing these hormones can alleviate hypothyroidism symptoms and restore normal thyroid function in patients with hypothyroidism.
Armour Thyroid Dosage & How Is It Taken?
Armour Thyroid Tablets are commonly taken orally, either with or without food. Depending on your specific needs and thyroid hormone levels, your healthcare provider will determine the dosage. It is important to follow their instructions closely. Initial doses are usually lower and may be gradually increased based on your response and follow-up blood tests. 
Armour Thyroid is regularly monitored and adjusted if necessary. Consult your healthcare provider before changing the dosage. The typical starting Armour thyroid dosage for adults is 30 mg-90 mg per day, but it is lower or higher depending on the individual's needs. The initial dose is usually taken in two doses, with the possibility of adjusting it over time.
How Do Armour Thyroid Tablets Work?
Thyroid hormones are provided by Armour Thyroid tablets to keep the body functioning properly. The thyroid gland naturally produces thyroxine (T4) and triiodothyronine (T3), that play a critical role in regulating the body's metabolism.
Using Armour Thyroid is as simple as this:
Supplementation of Thyroid Hormones:

Armour Thyroid contains both T4 and T3 hormones derived from pig thyroid glands. These hormones are absorbed into the bloodstream when taken orally.

Conversion of T4 to T3:

The body can convert T4 (thyroxine) into T3 (triiodothyronine), which is more active and potent. T3 is responsible for most of the thyroid hormone's biological effects.

Regulation of Metabolic Processes:

T3 and T4 regulate the body's metabolism. Energy production, temperature regulation, heart rate, digestion, and tissue growth and development are all affected by them.

Hypothyroidism:

Armour Thyroid treats hypothyroidism, which occurs when the thyroid gland does not result in enough hormones to function normally.

Symptom Relief:

Armour Thyroid can relieve symptoms associated with hypothyroidism, which may include fatigue, weight gain, cold intolerance, and others, by replacing the body's deficient thyroid hormones.
Important Warnings and Precautions for Armour Thyroid Tablets
The following are some important Armour Thyroid tablet warnings:
Always consult with your healthcare practitioner before starting or changing your Armour Thyroid dosage.

Tell your doctor if you have any allergies or sensitivities, especially to pork or thyroid hormones.

All medications and supplements you take can interact with Armour Thyroid, so inform your doctor about them.

Tell your doctor if you suffer from heart disease, diabetes, or problems with the adrenal glands.

Discuss thyroid hormone requirements with your doctor if you are pregnant, want to be pregnant, or breastfeeding.

Thyroid hormone levels are monitored regularly to ensure the medication is working effectively.

Report any unusual or severe side effects to your healthcare provider as soon as possible.

It is important to stick with the same brand if you are prescribed Armour Thyroid.

Keep Armour Thyroid tablets away from direct sunlight and in a cool, dry place.
Side Effects of Armour Thyroid Tablets
Armour Thyroid tablets may cause the following side effects:
Rash, itching, inflammation, serious dizziness, or difficulty breathing are all allergic reactions.

An overdose can cause rapid or irregular heartbeat, chest pain, excessive sweating, nervousness, or tremors.

Temporary hair loss might occur in some individuals.

Nausea, vomiting, diarrhea, or stomach cramps are digestive issues.

Individuals may lose weight or gain weight.

There have been reports of occasional headaches.

Some individuals may experience increased anxiety or nervousness.

Having problems falling asleep or staying asleep is called insomnia.

During the first few weeks of treatment, sweating is common.

Some people experience muscle weakness or tremors.
Armour Thyroid Tablets Interactions
It is possible for Armour Thyroid tablets to interact with certain medications and substances. Armour Thyroid Canada may alter the effects of drugs such as blood thinners, antidepressants, and certain heart medications. Supplements containing iron, calcium, or aluminum, as well as certain antacids, may reduce Armour Thyroid's absorption. To ensure safe and effective treatment, inform your healthcare practitioner of all medications and supplements you are taking.
Our Guarantee
Polarbearmeds.com offers Armour Thyroid buy online from reputable Canadian pharmacies at the most competitive prices. We guarantee that your order will be dispatched from a licensed Canada Pharmacy Online. Insulin products are promptly delivered from Canada directly to your door. Contact us toll-free at 1-888-779-2193 for convenient and budget-friendly online ordering of this essential medication.