Buy Azopt Eye Drops Online from Canada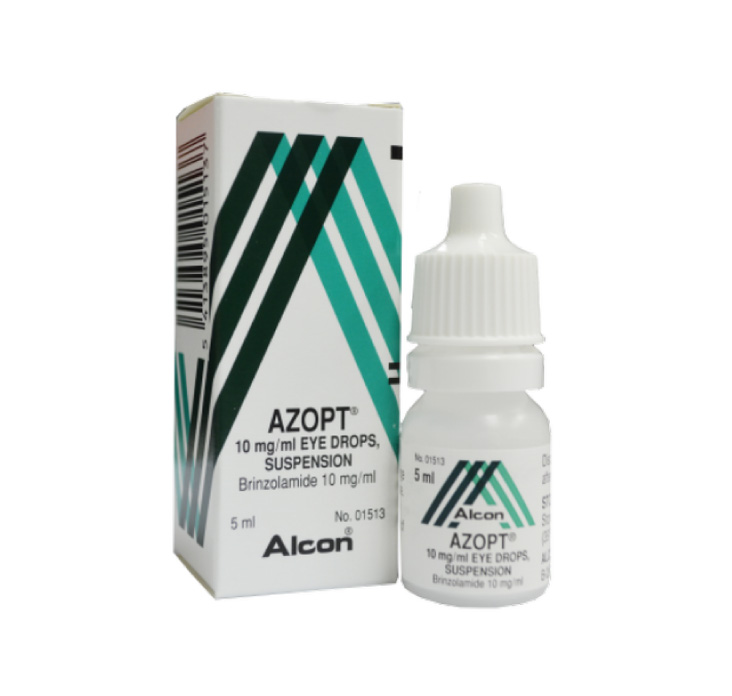 Product Description
What Are Azopt Eye Drops [Alcon (Brinzolamide)]?
An Azopt Eye Drop (brinzolamide) is an ophthalmic solution that is commonly known as Azopt. The medication is prescribed for conditions such as glaucoma and ocular hypertension that result in high pressure within the eye. Inhibitors of carbonic anhydrase are the class of drugs Azopt belongs to.
In order to lower intraocular pressure, eye drops reduce the production of fluid (aqueous humor) in the eye. For people with conditions like glaucoma, where elevated pressure harms the optic nerve and results in vision loss, this is especially important.
How Is an Azopt Eye Drop Taken (Dosage)?
The following dosage and administration guidelines apply to Azopt Eye Drops (brinzolamide):
Dosage: Azopt Eye Drops should be applied to the affected eye(s) three times a day with one drop per eye.
The administration:
Before handling eye drops, wash your hands thoroughly.

Create a small pocket by tilting your head back and pulling down your lower eyelid.

Keep the dropper tip close to your eye without touching it.

Put the prescribed number of drops into the pocket formed by your lower eyelid. After administering the drops, do not blink for a short period of time.

For about one minute, close your eye gently and then apply slight pressure to the inner corner of your eye (near your nose). The medication will not drain into your tear duct and be absorbed systemically this way.

Follow the instructions for the other eye if you are using drops in both eyes.
Contamination should be avoided: 
To prevent contamination, make sure the dropper tip does not touch any surface.

Dropper tips should not be touched to your eyes or eyelids.
Lenses for contact lenses:
Azopt should be used without contact lenses if you wear them. After administering the drops, wait at least 15 minutes before reinserting your contact lenses.
How Does Azopt Eye Drops Work?
Azopt Eye Drops contain brinzolamide, which is a carbonic anhydrase inhibitor. The purpose of this ophthalmic solution is to reduce elevated intraocular pressure (IOP) within the eye. Increasing IOP can lead to optic nerve damage and vision loss in conditions like glaucoma.
Brinzolamide inhibits carbonic anhydrase by inhibiting its activity. Aqueous humor (the fluid inside the eye) is produced by this enzyme in the ciliary body. Azopt reduces the production of aqueous humor by blocking this enzyme.
The reduction in aqueous humor production reduces eye pressure. The ability to control intraocular pressure is vital when treating conditions like glaucoma, where further damage to the optic nerve must be prevented. A key component of Azopt Eye Drops is the reduction of IOP, which prevents vision loss in glaucoma and ocular hypertension patients. A healthcare provider should prescribe Azopt as directed to ensure optimal intraocular pressure control.
Azopt Eye Drops: Precautions and Warnings
The following are some important precautions and warnings associated with Azopt Eye Drops:
If you have any allergies, especially to sulfa drugs, inform your healthcare provider since brinzolamide (the active ingredient in Azopt) is a sulfonamide.

If you have any specific eye conditions, such as corneal problems or issues with the eye's lens, let your healthcare provider know.

You should take off your contact lenses before using Azopt if you wear them. Before reinserting your contact lenses, wait at least 15 minutes after administering the drops.

Medications you are currently using, including prescriptions, over-the-counter, herbal supplements, and vitamins, may interact with Azopt.

Your healthcare provider should advise the potential risks and benefits of Azopt with you if you are pregnant, planning pregnancy, or breastfeeding.

Azopt is applied directly to the eyes, but a small amount can be absorbed into the bloodstream. There may be systemic effects or interactions with other medications as a result.

Children and the elderly are not well studied when it comes to Azopt's safety and effectiveness. A healthcare provider should carefully monitor and determine the use of this medication in these populations.

Consult your healthcare provider before using Azopt if you have liver or kidney problems.

Azopt may cause blurry vision or other visual disturbances when driving or operating machinery. You should exercise caution while driving or operating machinery until you are sure you can do so safely.

Potential side effects include eye irritation, stinging, blurred vision, or other vision changes. Notify your healthcare provider if you experience any severe or persistent side effects.

Azopt Eye Drops need to be stored at room temperature, away from light and moisture, and tightly closed when not in use.
Side Effects of Azopt Eye Drop
Brinzolamide, the active ingredient in Azopt Eye Drops, may cause some common side effects: 
Mild eye irritation

Stinging or burning upon application

Temporary blurred vision
Rarely, individuals may experience allergic reactions such as:
Rashes

Itching

Severe dizziness

Difficulty in breathing
In the event that you experience any serious or long lasting side effects, contact your healthcare provider immediately. The benefits of managing intraocular pressure should be weighed against the potential side effects, and you should follow your healthcare provider's instructions.
Azopt Eye Drops Interactions
Certain medications and substances may interact with Azopt Eye Drops (brinzolamide). All medications, supplements, and over-the-counter drugs should be disclosed to your healthcare provider. Interactions that may occur include:
Inhibitors of carbonic anhydrase

Salicylates

Sulfonamide Allergy

High Dose Salicylate and Sulfonylurea Medications

Other Eye Medications

Beta-Blockers

Calcium Channel Blockers

Antacids

Cimetidine
Frequently Ask Questions 
If I'm allergic to sulfa drugs, can I use Azopt Eye Drops?
Azopt Eye Drops (brinzolamide) should be used with caution if you are familiar with a known allergy to sulfa drugs. Although Azopt contains a sulfonamide component, it is applied topically to the eye and is generally believed to have a reduced risk of having systemic allergic reactions than oral sulfonamides.
How long can I use Azopt Eye Drops?
Your healthcare practitioner will decide how long you can use Azopt Eye Drops (brinzolamide). Follow their prescribed regimen and any specific instructions they provide. Azopt may be used for an extended period of time to manage conditions like glaucoma or ocular hypertension.
Can I use Azopt Eye Drops if I have diabetes?
Most diabetics can use Azopt Eye Drops (brinzolamide) to treat eye conditions like glaucoma or ocular hypertension. It is important to inform your healthcare provider about your diabetes and any other medical conditions you may have.
How can Azopt Eye Drops affect my vision?
The Azopt Eye Drops (brinzolamide) reduce intraocular pressure (IOP) within the eye. There are some potential side effects on vision caused by Azopt, including temporary blurred vision, enhanced clarity, or the prevention of vision loss. Azopt is primarily used to treat conditions such as glaucoma or ocular hypertension.
Our Guarantee
Azopt is available at Polarbearmeds.com at unbeatable prices, sourced from Canadian pharmacies. You can buy Azopt online with confidence, knowing your order will be dispatched by a licensed Canadian pharmacy. We ensure that your discount Insulin products reach your doorstep promptly from Canada with our fast and reliable shipping. Call us toll-free at 1-888-779-2193 for affordable medications and exceptional service.