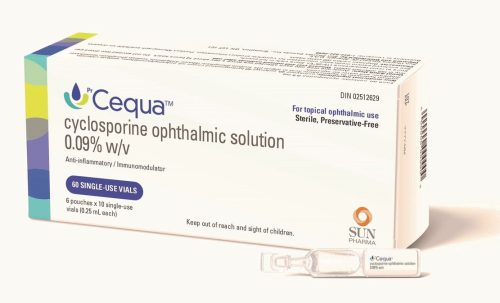 What is Cequa?
Cequa is a prescription medication used to increase tear production in adults with keratoconjunctivitis sicca (dry eye). It contains the active drug cyclosporine, a calcineurin inhibitor in the immunosuppressant class. It is available in liquid eye drops but not as a generic. Cost may vary depending on insurance and the pharmacy. It can be bought online from Polarbearmeds.com with a valid prescription.
Dosage of Cequa
The dosage of Cequa varies depending on factors such as severity and other medical considerations. It is a 0.09% ophthalmic solution, usually administered as one drop into each affected eye twice daily. As it contains no preservatives, it should not be reused or shared. If you miss a dose, consult your healthcare provider to determine the best action. Cequa is intended for long-term use in treating dry eye, and you should consult your doctor for appropriate dosage and usage instructions.
Uses
Cequa, containing the active drug cyclosporine, is used to increase tear production and alleviate symptoms of dry eye or keratoconjunctivitis sicca, such as burning, redness, itching, and sensitivity to light
How to store Cequa
To ensure the stability and effectiveness of Cequa, it is important to store the medication in a closed container at room temperature, away from heat, moisture, and light. This will help maintain its active ingredient cyclosporine and prevent degradation or loss of potency. Proper storage is essential to maximize its therapeutic benefits and ensure its long shelf life. Keep it in a cool, dry place and away from direct sunlight or extreme temperatures to maintain its chemical composition.
Cequa vs Restasis
When comparing Cequa and Restasis, it is essential to consider their differences in formulation, strength, approved age groups, and potential side effects. Cequa is a solution in single-use droppers with higher strength of cyclosporine compared to Restasis, which is an emulsion available in both single-use droppers and multi-use bottles. Cequa is not approved for use in children, while Restasis is approved for ages 16 and up.
Dry eye disease (DED) is a common ophthalmic disorder that affects more than 15 million people in the United States and 5–50% of the global population. DED has higher prevalence among adults over age 40, and especially in women—likely due to hormonal factors.
Both medications are recommended by the American Academy of Ophthalmology for dry eye syndrome treatment and have shown effectiveness in clinical trials. Potential side effects include burning sensation, inflammation, irritation, blurry vision, and mild allergic reactions, with headaches associated with Cequa and severe allergic reactions reported for Restasis. Contamination or forceful contact with the eye can lead to eye infection or injury, and both medications can be expensive compared to generic versions of Restasis.
Side Effects and Warnings
A prescription topical solution used to increase tear production in patients with dry eye may cause side effects such as:
ocular burning

eye pain

irritation

lacrimation

ocular hyperemia

eyelid erythema
These are typically mild and may not require medical attention. However, you should still be aware of them. Other less common side effects that can occur include:
blurred vision

conjunctivitis

eye discharge

foreign body sensation in the eyes
Consult a healthcare provider if any severe or persistent side effects occur while using this medication. It is important to follow the prescribed dosage and usage instructions provided by your doctor or healthcare professional.
Warnings and Precautions of Cequa Usage
While on this medication, potential eye injury and contamination should be considered. Patients should be warned not to touch the vial tip to the eye or any other surfaces. This precaution is necessary to prevent any harm or contamination during application. Additionally, contact lenses should be removed before administering Cequa and reinserted 15 minutes after.
Warnings and Precautions
– Do not touch the vial tip to the eye or other surfaces
– Remove contact lenses before administration
– Wait 15 minutes before reinserting contact lenses
Drug Interactions
Cequa has moderate interactions with 15 different medications, which are considered moderately clinically significant and should only be used in special cases. Before taking Cequa with any other medication, it is important to consult a healthcare provider for tailored advice.
These interactions are classified as major, moderate, and minor. Major interactions are highly clinically significant and should be avoided, while moderate interactions should be used with caution. Minor interactions are minimally clinically significant and can often be managed with alternative drugs or monitoring plans.
It is important to note that there is limited information regarding unknown drug interactions, so it is wise to be careful when taking Cequa with other medications to avoid potential adverse effects. Your healthcare provider can provide more detailed information about specific drug interactions and necessary precautions.
Frequently Asked Questions
Can Cequa be used to treat dry eye in children below the age of 12?
This is not recommended for treating dry eye in children under 12 as it has not been tested or proven safe and effective in that age group. It is only approved for use in adults.
Are there any financial assistance programs available for those who need help with the cost of Cequa?
Financial assistance programs, like Polarbearmeds.com, are available to those needing financial help with their prescription medication. These programs aim to provide access to prescribed medication.
Is Cequa available in generic form or is it only available as a brand-name medication?
Cequa is only available as a brand-name medication. It contains the active ingredient cyclosporine and is used to treat dry eye by increasing tear production.
Can Cequa be used while wearing contact lenses?
Cequa should not be used with contact lenses in place. It is advisable to remove them before administering the eye drops to prevent contamination and ensure proper absorption of the medication.
How should Cequa be stored to maintain its effectiveness?
Cequa should be stored between 20°C and 25°C (68°F and 77°F) in its original foil pouch to prevent any degradation or loss of potency.