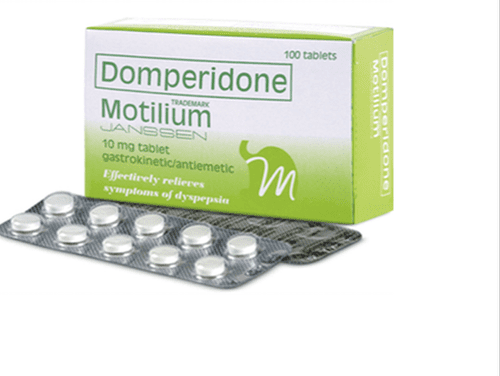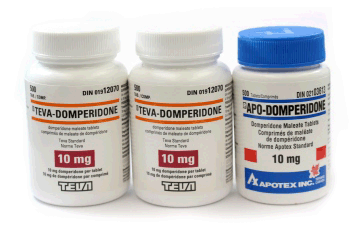 Product Description
Buy Domperidone Online
What Is Domperidone 10 Mg Tablet Used For? 
Domperidone (Motilium Tablets) is a prescription medication used to treat nausea and vomiting.
Domperidone 10 mg tablet works by stimulating the dopamine receptors in the brain. Interestingly, dopamine receptors are found in the part of the brain that controls nausea and vomiting. By stimulating these dopamine receptors, this medicine reduces nausea and vomiting.
Motilium tablets also prevent nausea and vomiting after surgery and during chemotherapy. However, it is primarily used for treating nausea and vomiting in pregnant women. Domperidone's most common side effects include headache, drowsiness, and dry mouth.
Therefore, it should not be used in people with heart problems, seizures, or liver history.
Dosage
The dosage of Domperidone can vary depending on the specific medical condition being treated, the individual's age, weight, and response to the medication, as well as the prescribing healthcare provider's recommendations.  
For adults and adolescents (age 12 and older), the recommended dosage of Domperidone 10 mg tablet is three to four times daily before meals and bedtime. However, with time, the dose may be adjusted as needed.
Missed Dose: If you miss a dose accidentally, take it at the earliest moment possible. However, if you are close to the timing of next dosage, skip the missed one and proceed with your regular medication schedule. Please do not overdose of this medication.
Overdose: If an individual has ingested an excessive amount of this medication and experiences severe symptoms like loss of consciousness or difficulty breathing, seek immediate medical assistance. Always adhere to your doctor's prescribed dosage and never exceed it.
We strictly advise against exceeding the prescribed dose without consulting your healthcare professional.
Pros of Taking Domperidone
It is a medication used for specific gastrointestinal and digestive purposes. Its benefits include:
Relief from Nausea and Vomiting: This medication is often prescribed to relieve symptoms of nausea and vomiting. It works by blocking the action of dopamine in the brain, which helps in reducing feelings of nausea and the urge to vomit.
Enhanced Gastrointestinal Motility: One might experience increased contractions of the muscles in the stomach and intestines, leading to improved movement of food and digestive contents through the digestive tract.  
Aid in Gastroesophageal Reflux Disease (GERD): It can help reduce symptoms of GERD, such as heartburn and regurgitation, by improving the passage of food from the stomach into the intestines.
Breastfeeding Support: It may be prescribed off-label to increase milk production in breastfeeding mothers. It can stimulate the release of prolactin, a hormone involved in milk production.
Reduced Risk of Aspiration Pneumonia: In some situations, particularly in individuals who have difficulty swallowing, Domperidone may be used to reduce the risk of aspiration pneumonia by promoting better coordination of swallowing and esophageal function.
Common Side Effects of Domperidone
Domperidone 10 mg tablets are known to increase appetite. The dose should be increased gradually to prevent overdose and side effects. Here are some commonly seen side effects:
Headache: It can cause headaches in some patients. This is usually seen in those taking high doses.
Increased appetite: It is known to increase appetite. It can also cause dizziness, headache, and insomnia. 
Insomnia: It may cause insomnia. This is generally associated with higher doses. 
Breast Enlargement and Tenderness: This medication can stimulate the release of prolactin, a hormone that can lead to breast enlargement and tenderness in both men and women.
Diarrhea: An increase in bowel movements or loose stools can occur as a side effect.
Adverse Side Effects 
If you've experienced any adverse effects when you buy Domperidone online, you should consult with your doctor or pharmacist as soon as possible. Furthermore, you should also inform them of any symptoms that you've experienced and see if you require any advice for the same. In some cases, your doctor may recommend that you stop taking this tablet.
You should also contact your doctor if you experience any of the following symptoms:
Skin
rash
If you have developed any skin rash, you should visit your doctor as soon as possible. Your skin rash could be a side effect of taking this medicine.
Excessive
sweating
If you experience excessive sweating while taking this medication, you may experience dehydration. You should drink plenty of water and contact your doctor immediately.
Excessive
drowsiness
You should contact your doctor if you have experienced excessive drowsiness or fatigue while taking Motilium tablets.
Drug Interactions
Certain medications, including those used to treat seizures, can interfere with how your body uses Domperidone. This can cause your Domperidone levels to be too high or too low.
St. John's Wort (Hypericum perforatum)
St. John's Wort, an herbal supplement used to treat depression, can interfere with how your body uses Domperidone. Take this herb at least 2 hours before or at least 4 hours after you take motilium tablets.
Warfarin (Coumadin)
Warfarin (Coumadin), a blood thinner, can interfere with how your body uses Motilium. This can escalate Domperidone levels quickly. Make sure to discuss your treatment with your healthcare provider so that you do not take too much motilium if you are using this medicine.
The FDA has identified the following drugs that can cause Domperidone levels to be too high:
Clomipramine

Mibefradil

Pindolol

Probucol

Propafenone

Quinidine

Quinine

Saquinavir

Warfarin (Coumadin) )
Storage Instructions
We have provided storage tips to keep your Domperidone 10 mg tablet safe and secure while taking it.
It is essential to understand the possible side effects before you buy Domperidone online. This medication can be habit-forming and can cause dizziness, drowsiness, dry mouth, blurred vision, constipation, nausea, and vomiting.
Always read the medicine label before taking it to ensure the reliability of the information. Read the medicine label and follow the directions carefully. If your physician has told you to take this medicine every day, keep the medicine in a place where others cannot get to it.
Store Domperidone at room temperature, away from moisture and heat.
Frequently Asked Questions
Can Motilium be used to treat conditions other than gastroparesis?
Motilium (Domperidone) is primarily used to treat gastroparesis, a condition characterized by slowed movement in the gastrointestinal tract. While it may have off-label uses, its effectiveness for other conditions has not been extensively studied or approved.
Are there any age restrictions for using Motilium from Canada?
There are age restrictions for using Motilium from Canada. It should be used cautiously in patients over 60 years of age, and the lowest possible dose for the shortest duration necessary is recommended.
Is it safe to take Motilium during pregnancy or while breastfeeding?
It is not safe to take this medication during pregnancy or while breastfeeding unless the benefits outweigh the risks. It is important to consult with a healthcare professional for personalized advice or information.
What should I do if I miss a dose of Motilium?
If a dosage is missed, it should be taken as soon as remembered. However, if it is close to the next scheduled dose, the missed dose should be skipped, and the regular dosing schedule should be resumed.
Can Motilium be shipped to countries outside of Canada?
When you buy Motilium online from us, it can be shipped to countries outside of Canada. Domperidone Canadian Pharmacy works with affiliated dispensaries in various countries, including Singapore, New Zealand, Turkey, Mauritius, India, and the United Kingdom, to fulfill orders for Motilium.
Our Guarantee
PolarBearMeds.com will provide the lowest price for Canadian Pharmacy Domperidone. We guarantee your order will be shipped from a Licensed Canada Pharmacy Online. All of our discount Insulin products are shipped fast from Canada, straight to your door. To buy Domperidone online at a cheap discount from a Domperidone Canada Pharmacy, please note our Contact no- at 1-888-779-2193 toll-free.