Each 15ml is a package of 5 x 3ml pens
Product Details
What is Fiasp Flextouch?
Fiasp Flextouch is an insulin pen containing insulin aspart with added L-arginine and niacinamide. These added ingredients accelerate insulin absorption. As Fiasp starts to work faster than other insulins, it is suitable as a mealtime insulin.
The Fiasp Flextouch pen is a single-use delivery system. It features a "dial-a-dose" wheel that enables precise dose adjustment of up to 1-unit increments. Needles that are compatible with Fiasp Flextouch include NovoFine Plus and NovoTwist needles. Each pen contains 3 mL of 100 units/mL Fiasp solution for injection, and each carton contains 5 pens.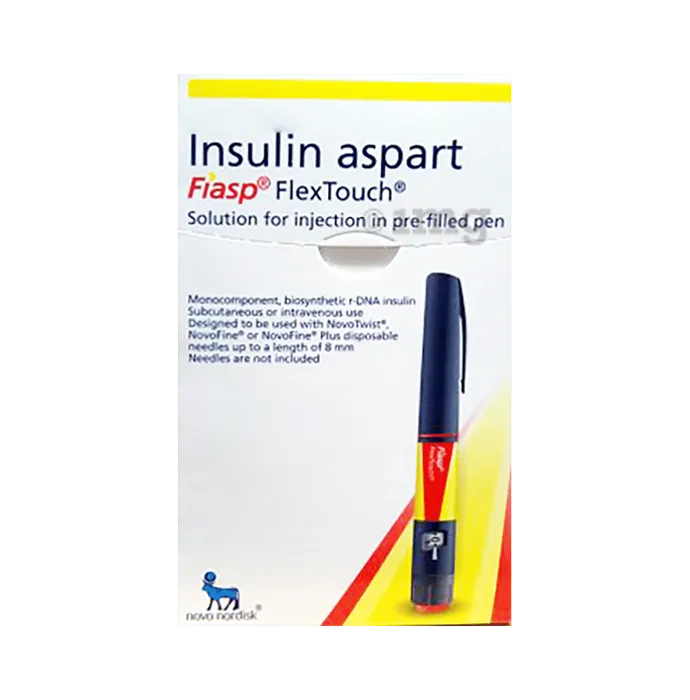 What Is It Used For?
This insulin pen contains a mealtime insulin utilized to curb post-prandial blood sugar spikes experienced by diabetic patients dependent on insulin therapy. This insulin is used together with a long-acting insulin as part of a complete insulin treatment regimen. Fiasp should be administered right before a meal or within 20 minutes of starting a meal.
Why Use Fiasp Flextouch?
This insulin is a fast-acting formulation that begins working much faster than normal insulin. Injecting insulin with a pen provides more accurate dosing and reduces injection pain, and the Flextouch out-performs similar drug delivery systems like the KwikPen and the Solostar.
Side Effects of Fiasp Flextouch
If you have any of the following symptoms of an allergic reaction to insulin: tongue or throat swelling, difficulty breathing, rashy, itchy skin all over your body, fast heartbeats, or redness or swelling where an injection was given, get emergency medical attention.
Fiasp could have harmful side effects. If you experience any of the following:
swelling, rapid weight gain, and shortness of breath are symptoms of cardiac issues; or
Leg cramps, constipation, fluttering in the chest, increased thirst or urination, numbness or tingling, muscle weakness or a limp appearance are all symptoms of low potassium.
The following are examples of side effects due to Fiasp:
Reduced Blood Sugar
Gaining Weight
Lack of Potassium
Your Hands And Feet Swelling;
Irritation, Rash, Redness, or Swelling on the Skin; or
Where the Medication was injected, the skin thickens or becomes hollow.
Which Medications Will Impact Fiasp Flextouch Insulin?
When using other medications at the same time as insulin, its effectiveness may be affected. Additionally, some medications may lessen your hypoglycemia symptoms, making it more difficult to determine when your blood sugar is low. This includes vitamins, herbal goods, prescription and over-the-counter medications. Not all potential interactions are covered in this list. Inform your doctor of any medication changes you make.
Our Guarantee
PolarBearMeds.com will provide the lowest price for Fiasp Flextouch insulin pens from Canada. We guarantee your order will be shipped from a Licensed Canadian Pharmacy. All of our discount Insulin products are shipped fast from Canada, straight to your door. To order this insulin medication online at a cheap discount from a Canada Pharmacy please call us at 1-888-779-2193 toll-free.
Reviews