Buy Humalog Kwikpen 100 Unit/ml Online from Canada
Product Details
What Is Humalog Kwikpen?
The Humalog KwikPen is a specialized insulin delivery tool, commonly known as an insulin pen, designed for administering Humalog Insulin Lispro. This pre-filled, disposable pen streamlines the process of insulin administration, providing a hassle-free method for subcutaneous injections without the need for vials, needles, or syringes. Each package includes five single-use pens, each containing 3 mL of Insulin Lispro.
Humalog Kwikpen Insulin: Dosage, Usage, and Storage Instructions
Dosage
The appropriate dosage of Humalog kwikpen insulin will be determined by your healthcare provider based on various factors, including your blood sugar levels, individual insulin sensitivity, and your specific meal plan. It's important to follow your healthcare provider's instructions carefully.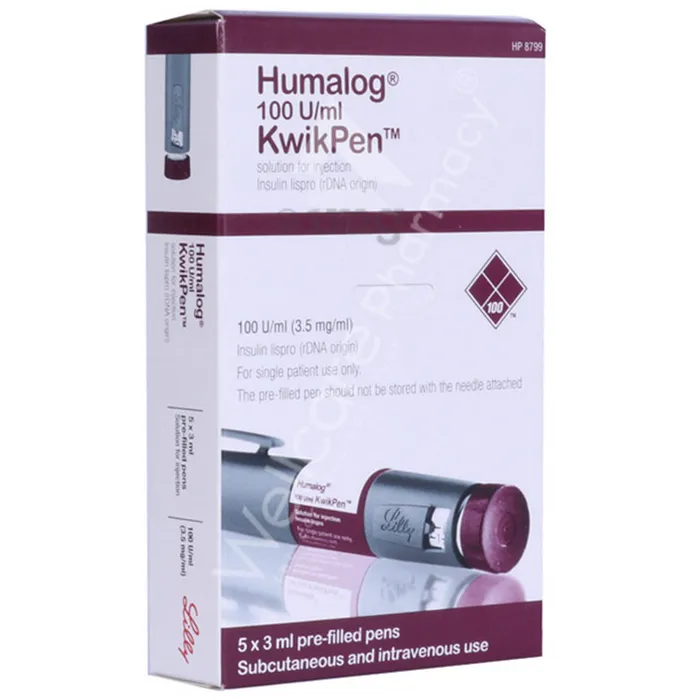 How to Administer?
Wash your hands thoroughly with soap and water.

Inspect the insulin in the pen. Do not use it if it appears cloudy or contains particles.

Select your prescribed dose on the pen's dose selector.

Pinch a fold of skin at the injection site (usually the abdomen, thigh, or upper arm) and insert the needle at a 90-degree angle.

Press the injection button to deliver the dose.

Keep the needle in the skin for a few seconds to ensure the total dose is administered.

Remove the needle and dispose of it safely in a sharps container.
Storage
Store unopened pens in the refrigerator at a temperature between 2-8°C (36-46°F). Do not freeze. An opened (in-use) pen can be stored at room temperature (not exceeding 30°C or 86°F) for up to 28 days. Do not expose the pen to direct sunlight or heat. Always check the expiration date on the pen before using it. Do not use expired insulin.
How Does Humalog Kwikpen Work?
Humalog kwikpen 100 unit/ml contains a type of insulin called Insulin Lispro, which is a fast-acting insulin analog. Its mechanism of action is designed to mimic the natural release of insulin by the pancreas in response to a meal.
When you inject Humalog Insulin Lispro using the KwikPen, it rapidly enters your bloodstream and starts working within minutes. This quick onset of action helps to lower your blood sugar levels promptly after a meal. It peaks in effectiveness within about 30-90 minutes, and its effects can last for up to 3-5 hours.
It's important to note that you should use Humalog KwikPen 100 as directed by your healthcare provider, typically around meal times, to help manage your blood sugar levels effectively. Always consult with your healthcare professional for specific instructions and dosage adjustments.
Warnings and Precautions
Caution is advised when using Humalog kwikpen insulin in situations with a risk of hypoglycemia, alterations in insulin regimen, or hepatic/renal issues.

Special care should be taken for pregnant or breastfeeding individuals, as well as those taking additional medications.

Consumption of alcohol and engaging in tasks requiring concentration may be impacted.

It is essential to consistently monitor blood glucose levels.
Side Effects of Humalog Kwikpen Insulin
Common side effects of Humalog kwikpen 100 unit/ml may include:
Hypoglycemia (low blood sugar)

Hyperglycemia (high blood sugar)

Injection site reactions 

Lipodystrophy (changes in fatty tissue at injection site)

Allergic reactions 

Hypokalemia (low potassium levels)

Weight gain 

Fluid retention

Vision changes 

Symptoms of heart failure 
Always consult your healthcare provider or pharmacist for comprehensive information about the side effects of Humalog KwikPen based on your individual circumstances. If you experience any severe or unexpected side effects, seek immediate medical attention.
Humalog Interactions
Humalog KwikPen 100 may interact with several medicines. It's important to inform your healthcare provider about all medications that you are currently taking. Some potential medicines interactions with Humalog KwikPen 100 include:
Metformin

Sulfonylureas

Beta-Blockers

ACE Inhibitors

ARBs (Angiotensin II Receptor Blockers)

Corticosteroids

Thiazide Diuretics

MAOIs (Monoamine Oxidase Inhibitors)

SSRIs (Selective Serotonin Reuptake Inhibitors)

Lithium

Octreotide

Lanreotide

Quinolone Antibiotics
Always consult your healthcare provider or pharmacist for comprehensive information on potential drug interactions. 
Frequently Asked Questions
Is Humalog Kwikpen Insulin safe for children and adolescents?
Yes, it is safe to use Humalog KwikPen for children and adolescents. However, the dosage and administration should be determined by a healthcare provider based on the individual's specific needs and circumstances. Close monitoring and regular communication with a healthcare professional are essential for effective diabetes management in pediatric patients.
How do I properly dispose of used pen needles of Humalog KwikPen?
To safely dispose of used pen needles from Humalog KwikPen 100 Unit/ml, use a sharps container. Place used needles in the container, seal it securely, and label if desired. Do not overfill. Keep it out of reach of children and pets. Follow local regulations for proper disposal. Never recycle household bins.
How quickly does Humalog KwikPen start working after an injection?
Humalog KwikPen 100 Unit/ml, containing Insulin Lispro, typically starts working within 15 minutes after subcutaneous injection. Its rapid onset of action allows for a quick reduction of blood sugar levels after a meal. It peaks in effectiveness within 30-90 minutes, and its effects can last up to 3-5 hours.
Can I engage in physical activities while using Humalog KwikPen?
Yes, you can engage in physical activities while using Humalog KwikPen 100 Unit/ml. However, it's important to monitor your blood sugar levels closely and adjust your insulin dosage or carbohydrate intake as advised by your healthcare provider to prevent hypoglycemia during or after exercise.
Our Guarantee
At PolarBearMeds.com, we assure you the most affordable prices for Humalog kwikpen 100 unit/ml. Rest easy knowing that your order will be dispatched from a reputable Licensed Canada Pharmacy Online, adhering to the highest standards of quality and authenticity. Our discounted insulin products are promptly shipped from Canada directly to your doorstep, ensuring a swift and secure delivery experience. To conveniently buy Humalog Kwikpen 100 Unit/ml at a substantial cost, call us at 1-888-779-2193 toll-free.
Reviews