Buy Humalog Kwikpen Online from Canadian Pharmacy
Product Details
What Is a Humalog Kwikpen 200 Units ML?
The Humalog Kwikpen 200 units/ml is an insulin pen designed for easy and painless insulin injection in individuals with type 1 and 2 diabetes. It contains 200 units of Humalog insulin, a rapid-acting type that helps control post-meal spikes in blood sugar levels. Many people favor this insulin pen for diabetes over syringes due to its user-friendly nature and reduced discomfort. It also offers precise and consistent dosing. Insulin lispro, a synthetic rapid-acting insulin, is the active ingredient in this pen, specifically formulated to counteract the rapid increase in sugar levels after meals. You can buy Humalog Kwikpen online from Canadian pharmacies at the best Humalog 200 Kwikpen price. 
How Does Humalog Kwikpen 200 Work?
Humalog Kwikpen 200 contains insulin lispro, which is a rapid-acting insulin analog. Its mechanism of action is designed to mimic the natural insulin release by the pancreas in response to elevated blood sugar levels.
When injected subcutaneously (under the skin), Humalog insulin lispro is absorbed into the bloodstream more rapidly than regular human insulin. This allows it to start lowering blood sugar levels more quickly.
Once in the bloodstream, insulin lispro facilitates the uptake of glucose (sugar) by cells, particularly muscle and fat cells. It does this by binding to insulin receptors on the cell surface. This action enables the cells to take in glucose from the bloodstream, which in turn leads to a reduction in blood sugar levels.
Additionally, insulin lispro inhibits the liver from releasing stored glucose into the bloodstream. This helps prevent excessive glucose production in the liver.
The rapid onset and short duration of action of Humalog make it particularly useful for managing post-meal spikes in blood sugar levels, which occur after eating. This helps individuals with diabetes control their blood sugar levels throughout the day.
Dosage, Usage, and Storage Instructions
Dosage
The dosage for Humalog 200 units/ml may vary depending on individual circumstances, so it's essential to follow your healthcare provider's specific recommendations. They will provide personalized dosing instructions based on your current blood sugar levels, carbohydrate intake, physical activity, and overall health.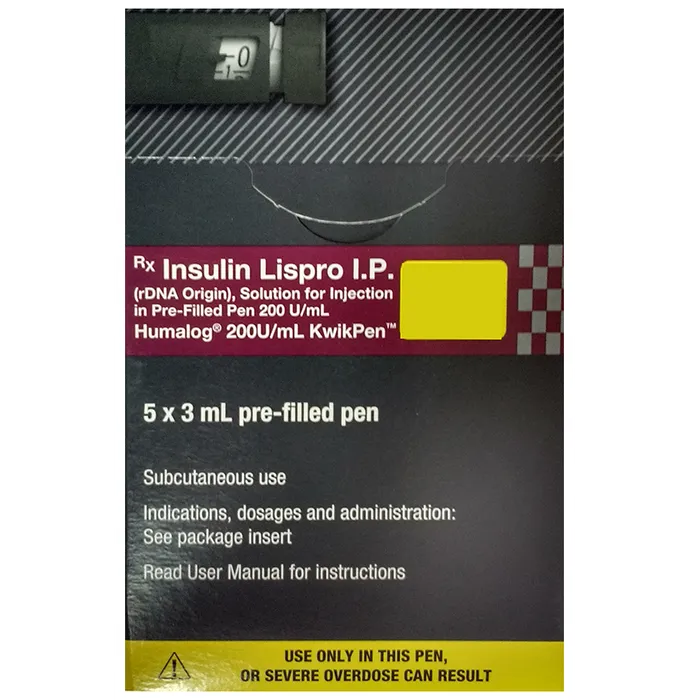 How to Use?
In general, Humalog 200 units/ml is typically injected subcutaneously (under the skin) before meals. It's important to avoid transferring it to a syringe to prevent overdose. Administer it shortly before or immediately after starting a meal to help control post-meal blood sugar spikes. The Humalog 200 Kwikpen price may vary depending on the location and the pharmacy. When you buy Humalog Kwikpen online, it's recommended to compare the Humalog Kwikpen cost from different sources to find the best deal.
Storage
Before use, store unopened Humalog Kwikpen 200 units/ml in the refrigerator at a temperature of 36°F to 46°F (2°C to 8°C). Do not freeze it. Protect it from light.

Once in use, you can keep the pen at room temperature (between 59°F to 86°F or 15°C to 30°C) for up to 28 days. Avoid exposing it to extreme heat or direct sunlight.

Do not share your Humalog Kwikpen with others, even if the needle is changed. Sharing may pose a risk of transmitting infections.

Do not expose the pen to temperatures above 86°F (30°C) or below 36°F (2°C). Avoid storing it near a direct source of heat or in the freezer.

Store the pen in a place where children cannot reach it.
Always check the manufacturer's instructions provided with the medication for any specific storage guidelines before you buy Humalog Kwikpen online. If you have concerns about usage, storage, and Humalog kwikpen cost, consult your healthcare provider or pharmacist for guidance.
Side Effects of Humalog
Common side effects of Humalog 200 units/ml may include:
Hypoglycemia

Injection Site Reactions

Weight Gain

Hypokalemia

Allergic Reactions

Lipodystrophy

Fluid Retention and Edema

Vision Changes

Heart Palpitations or Irregular Heartbeat
It's essential to report any unusual or severe side effects to your healthcare provider promptly. They can provide guidance on how to manage or alleviate these effects, and they may adjust your dosage or recommend alternative treatments if necessary. 
Warnings and Precautions
Patients should be educated on recognizing and managing low blood sugar. 

Patients may require adjustments in their insulin regimen during illness or stress.

Monitor potassium levels, especially in patients at risk of low potassium levels.

Discuss insulin management with a healthcare provider if pregnant or breastfeeding.

Adjustments in insulin dosage may be necessary in cases of liver or kidney impairment.

If allergic reactions occur, discontinue use and seek immediate medical attention.
Humalog- Drug Interactions
Humalog (insulin lispro) can potentially interact with other drugs, including:
Sulfonylureas (e.g., glipizide, glyburide)

Meglitinides (e.g., repaglinide)

Nonselective beta-blockers (e.g., propranolol)

ACE inhibitors (e.g., lisinopril)

Angiotensin receptor blockers (ARBs)

Thiazolidinediones (e.g., pioglitazone, rosiglitazone)

Certain antibiotics (e.g., fluoroquinolones, sulfonamides)

Salicylates (aspirin)

Corticosteroids (e.g., prednisone)

Sympathomimetics (e.g., epinephrine, albuterol)

Monoamine oxidase inhibitors (MAOIs)

Thyroid medications

Hormonal contraceptive
Always consult with a healthcare provider or pharmacist about potential interactions and how to manage them safely.
Frequently Asked Questions
Can I switch from another insulin to Humalog 200?
Yes, individuals may switch from their current insulin to Humalog 200 under the guidance of their healthcare provider. The transition requires careful dosage adjustment and monitoring to ensure smooth and safe insulin management. It's crucial to consult a healthcare professional for personalized guidance and to avoid complications.
How do I adjust my diet while using Humalog 200?
While using Humalog 200, coordinate with a registered dietitian or healthcare provider to create a balanced meal plan. Focus on portion control, balanced macronutrients, and consistent carbohydrate intake. Monitor blood sugar levels closely and make adjustments in collaboration with your healthcare team.
Can I travel with Humalog 200?
Yes, you can travel with Humalog 200. Ensure you have enough insulin for your trip, plus extra in case of unexpected delays. Pack it in a cool place, avoid extreme temperatures, and keep it easily accessible. Carry a prescription and consult your healthcare provider for specific travel tips.
How long does the effect of Humalog 200 last?
The effects of Humalog 200 typically last for about 3 to 5 hours. However, individual responses may vary. It's essential to monitor blood sugar levels regularly and consult with a healthcare provider for personalized guidance on dosing and timing of insulin administration.
Our Guarantee
At PolarBearMeds.com, we assure you the most affordable Humalog 200 Kwikpen price. Rest easy knowing that your order will be dispatched from a reputable Licensed Canada Pharmacy Online, adhering to the highest standards of quality and authenticity. Our discounted insulin medications are promptly shipped from Canada directly to your doorstep, ensuring a swift and secure delivery experience. To conveniently buy Humalog Kwikpen online at a substantial cost, call us at 1-888-779-2193 toll-free.
Reviews