Product Details
What is a Humalog Kwikpen 200 units ml?
A Humalog Kwikpen 200 units ml is an insulin pen that lets people with diabetes easily and painlessly inject their insulin. This insulin pen contain 200 units of Humalog insulin, which is a rapid-acting insulin that helps diabetics control spikes in their sugar levels that occur shortly after eating food. Many diabetics prefer using insulin pens over syringes because they are easier and less painful to use. Humalog Insulin Kwikpens also provide more accurate and consistent dosages.
What is Humalog Kwikpen 200 units ml used for?
The Humalog Kwikpen 200 units ml is used by people with type 1 and type 2 diabetes to inject their insulin. The Humalog Kwikpen 200 units ml is convenient and helps diabetics consistently administer safe, accurate doses. The insulin pen contain insulin lispro, which is a synthetic, rapid-acting insulin that is made specifically to combat the quick rise in sugar levels that occur naturally after eating. By injecting this into the blood stream, insulin is quickly introduced into the body to effectively process glucose. Most diabetics have trouble producing insulin naturally, which causes blood sugar levels to become dangerously high.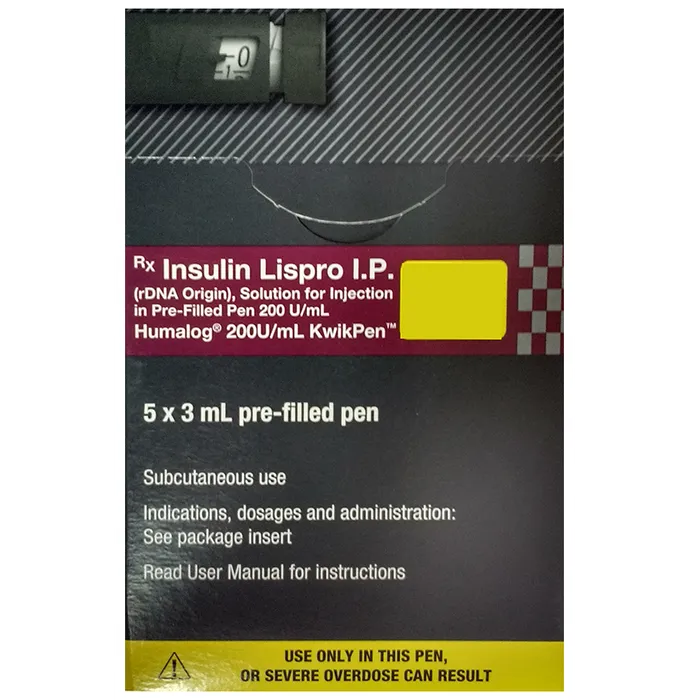 How to use Humalog Kwikpen 200 units ml?
DO NOT TRANSFER THIS MEDICINE TO A
SYRINGE
. SEVERE OVERDOSE CAN RESULT.
Follow all directions given to you by your doctor or pharmacist carefully.
These may differ from the information contained in this leaflet.
More frequent blood glucose monitoring is recommended when changing insulin dose or type.
Humalog Kwikpen 200 units ml should not be mixed with any other insulin.
How much to use?
Your doctor will tell you how much insulin you need to use each day.
Do not change your insulin unless your doctor tells you to. Be very careful if you do change insulin.
If you change the type of insulin that you use (for example from human insulin to Humalog Kwikpen 200 units ml), you may have to take more or less than before. This may happen with the first injection or it may be a gradual change over several weeks or months.
How to use it?
Inject Humalog Kwikpen 200 units ml under the skin. Under no circumstances should Humalog Kwikpen 200 units ml be given intravenously.
Follow the steps below.
Preparing a dose
Remove Pen Cap and check the cartridge in your KwikPen. The solution of HUMALOG U200 should be clear and colourless.
Check your KwikPen before each injection.
The manufacturer's instructions for the Humalog Kwikpen 200 insulin delivery system should be followed for preparing and priming the KwikPen, attaching the needle and administering the insulin injection.
Check for insulin flow (Priming)
1. Set the dose to 2 units.
2. Hold the Humalog Kwikpen 200 units ml with the needle pointing up and tap the side of the pen so that any bubbles float to the top.
3. With the KwikPen still pointing up, press the Dose Knob in until it stops and 0 is seen in the Dose Window. Hold Dose Knob in and count slowly for 5 seconds. Priming is complete when a stream of insulin comes out of the needle. This is very important to ensure the correct dose is injected.
4. Only after seeing a stream of insulin at the needle tip can you proceed to dial up your required dose. There may still be some small air bubbles left in the pen. These are harmless, but if the air bubble is too big, it may make the dose of your injection less accurate.
Injecting a dose
2. Choose a site for injection. Use of injection sites should be rotated so that the same site is not used more than approximately once a month
3. Remove outer needle cap.
4. Stabilise the skin by spreading it or pinching up a large area. Insert the needle as instructed by your doctor.
5. Press the Dose Knob and push firmly until the Dose Knob stops moving. Count to 5 slowly before removing the needle from the skin.
6. Pull the needle out and apply gentle pressure over the injection site for several seconds. Do not rub the area.
7. Using the outer needle cap, unscrew the needle and dispose of it safely. Do not reuse the needle. NEEDLES and PENS MUST NOT BE SHARED.
Further injections
1. Check your Humalog Kwikpen 200 units ml before each injection.
2. Before every injection, check for insulin flow. Do this by dialling 2 units and pressing the Dose Knob with the pen pointing up. Do this until a stream of insulin comes out of the needle.
3. Stop using the KwikPen if the correct dose can no longer be dialled. The KwikPen will not allow you to dial a dose greater than the number of insulin units remaining in the cartridge in the KwikPen.
4. You can see how much insulin is left by looking at the gauge on the side of the cartridge in the KwikPen. The scale on the cartridge shows how many units you have left. If there is not enough for your dose, you may either:
a. Give the partial dose and then give the remaining dose using a new KwikPen.
Or
b. Give the full dose with a new KwikPen.
Do not mix any other insulin in your pen. Once the pen is empty, do not use it again.
When to use it?
Your doctor will tell you when to use HUMALOG U200.
You should normally use HUMALOG U200 immediately (or up to 15 minutes) before a meal. When necessary, HUMALOG U200 can be used soon after a meal. When HUMALOG U200 is given after a meal, it must be within 20 minutes of the start of the meal.
Our Guarantee
PolarBearMeds.com will provide the lowest price for Humalog KwikPen 200 units ml from Canada. We guarantee your order will be shipped from a Licensed Canada Pharmacy Online. All of our discount Insulin products are shipped fast from Canada, straight to your door. To order this insulin medication online at a cheap discount from a Canada Pharmacy please call us at 1-888-779-2193 toll-free.
Reviews