Buy Humulin R Vial Online from a Canadian Pharmacy
Product Details
What Is a Humulin R Vial?
A Humulin R vial contains Humulin R insulin, a Regular insulin brand, and a short-acting analog. This injectable medication is employed to regulate blood sugar levels in diabetes treatment. It consists of zinc-insulin crystals suspended in a transparent solution. This formulation aids in effectively managing glucose levels in individuals with diabetes.
What Is the Use of Humulin R 100 units/ml Vial?
Humulin R 100 units/ml Vial is used for the following purposes:
It is utilized with a balanced diet and regular exercise to effectively regulate blood sugar levels in adults and children afflicted with type 1 and type 2 diabetes mellitus.

This insulin variant is also employed in the treatment of gestational diabetes.

Humulin R is instrumental in addressing diabetic complications, including hyperosmolar hyperglycemic states and diabetic ketoacidosis (DKA).
Additionally, it may be administered with glucose (sugar) to mitigate elevated potassium levels in individuals suffering from hyperkalemia (high blood potassium).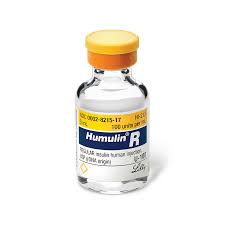 Dosage and Administration of a Humulin Vial
Humulin vial dosage is individualized and should be determined by a healthcare provider. The typical daily insulin requirement for maintenance therapy is 0.5 to 1 unit per kilogram of body weight. However, here are some general guidelines:
Type 1 Diabetes
The usual starting dose for adults is 0.2 to 0.4 units of insulin per kg of body weight each day, divided into several doses.

The dose may vary based on blood glucose monitoring results.
Type 2 Diabetes
The dosage of Humulin vial for type 2 diabetes is highly variable. It may range from 0.1 to 0.2 units per kilogram of body weight per day, depending on the severity of the condition and the patient's response to insulin therapy.
Gestational Diabetes
Dosage of Humulin vial for gestational diabetes is determined individually, often requiring close monitoring and adjustment.
Diabetic Ketoacidosis (DKA) or Hyperosmolar Hyperglycemic State (HHS)
The initial dosage may be higher, often requiring an intravenous (IV) infusion, followed by a transition to subcutaneous administration once the patient stabilizes.
Proper Administration
Ensure that the injection site is dry and clean. Pinch a skin fold, insert the needle at a 90-degree angle, and inject the insulin slowly and steadily.

Rotate injection sites to prevent lipodystrophy (changes in fat tissue). Common injection sites include the abdomen, thighs, and upper arms.

Care should be taken to avoid injecting into blood vessels. Aspiration (pulling back on the plunger before injecting) is not typically required.
Mechanism of Action of Humulin R Vial
Humulin R vial is designed to regulate blood sugar levels effectively. Here's how it works:
Onset and Duration:
After injection, Humulin R begins its action in about 30 minutes and remains effective for approximately 6 to 8 hours. This characteristic safeguards against the rapid rise in blood sugar levels that often follow meals, especially when taken 30 to 60 minutes before eating.
Mimicking Natural Insulin:
Humulin R replicates the function of natural human insulin, typically produced by the pancreas.
Blood Sugar Regulation:
Insulin plays a pivotal role in managing blood sugar. It achieves this by facilitating the absorption of sugar from the bloodstream and converting it into forms that can be utilized by various bodily tissues such as fat, liver, and muscles.
Prescribed for Diabetes Control:
Your healthcare provider has recommended insulin injections to help maintain your blood sugar within a healthy range. Additionally, it aims to minimize the presence of sugar in your urine, a standard indicator of uncontrolled blood sugar levels.
Side Effects of Humulin R Insulin
Hypoglycemia (Low blood sugar)

Reactions at the injection site

Diabetic ketoacidosis (DKA)

Allergic reactions to insulin
Warnings and Precautions 
Refrain from using this medication if you have a known allergy to the drug or its components.

Avoid administering Humulin R if you are experiencing hypoglycemia (low blood sugar).

This insulin is not intended for the treatment of diabetic coma.

It should never be administered intravenously.

Before use, visually inspect the vial. Do not use it if visible clumps or white particles adhere to the bottom or sides, giving the vial a frosted appearance. This may indicate a compromised product.
Humulin R Vial Interactions
Humulin R Vial may interact with:
Oral Diabetes Medications

Beta-Blockers

Thiazolidinediones

Alcohol

Drugs like corticosteroids, thyroid supplements, and certain diuretics

ACE Inhibitors

Angiotensin II Receptor Blockers (ARBs)

Growth hormone, glucagon, and certain contraceptives 

Sympathomimetic Agents

Lithium

Beta-Adrenergic Stimulants

Antibiotics (Quinolone and tetracycline)

Antidepressants (Tricyclic antidepressants and MAO inhibitors)
Frequently Asked Questions
Can I use Humulin R Vial during pregnancy?
Humulin R Vial (or any insulin) used during pregnancy must be carefully evaluated in consultation with a healthcare provider. Controlling blood sugar levels is crucial during pregnancy to ensure the well-being of both the mother and the developing fetus. Uncontrolled diabetes during pregnancy can lead to complications for both the mother and the baby.
When should I take Humulin R Vial?
Humulin R vials should generally be taken approximately 30 to 60 minutes before meals. This timing helps to cover the rise in blood sugar levels that typically occur after eating. However, it's crucial to follow your healthcare provider's specific instructions regarding the timing of your Humulin R injections. They may provide tailored recommendations based on your individual needs and meal schedule. 
Can I mix Humulin R Vial with other insulins?
Yes, Humulin R Vial can be mixed with certain other insulins, but it should be done under your healthcare provider's guidance and specific instructions. They will provide detailed information on which insulins can be safely mixed and the proper technique. It's essential to follow their recommendations closely to ensure your insulin therapy's accurate and safe administration. Mixing insulins can be a helpful strategy for some individuals with diabetes to achieve optimal blood sugar control.
How should I store Humulin R Vial?
Humulin R Vial should be stored with specific considerations:
It should be kept in the refrigerator (36°F – 46°F) 

Ensure that the insulin does not freeze, as freezing can render it ineffective.

If you're actively using a vial, it can be stored below 86°F or 30°C for up to 31 days.

Store the vial away from direct sunlight and sources of heat.

Always check the date of expiration on the vial, and do not use it if it has expired.

Keep the vial in its original packaging or in a protective case to shield it from light.
Our Guarantee
For the most cost-effective purchase of Humulin R insulin online from Canada, trust PolarBearMeds.com. We ensure the lowest prices and guarantee that your order will be dispatched from a licensed Canada Pharmacy Online. Our discounted Insulin offerings are swiftly delivered from Canada right to your doorstep. To avail of this affordable insulin medication through a Canadian Pharmacy, dial 1-888-779-2193 toll-free.
Reviews