Buy NovoRapid FlexPen Online from Canada
Each 15ml is a package of 5 x 3ml pens
Product Details
What Are NovoRapid Flexpen?
NovoRapid FlexPens are a type of insulin delivery device designed with NovoRapid, a fast-acting insulin analog. These pens are pre-filled with NovoRapid insulin, allowing for convenient and accurate insulin administration. They are designed to be user-friendly, making it easier for individuals with diabetes to manage their blood sugar levels effectively. NovoRapid FlexPens are famous for those requiring rapid-acting insulin to help control post-meal blood sugar spikes. You can buy NovoRapid pens online from Polar Bear Meds. 
Dosage and Administration
Proper administration and suitable storage ensure the optimal effectiveness of this rapid-acting insulin analog. Here's a guide to its dosage, administration, and storage.
Dosage
Your NovoRapid Flex Pens dosing plan is custom-tailored by your doctor, accounting for diabetes type, metabolic needs, and history. Weight, stress, illness, diet, or activity changes may necessitate dose adjustments. Monitor blood sugar levels diligently, especially during transitions from other insulins. Combining with a long-acting insulin aids in around-the-clock control.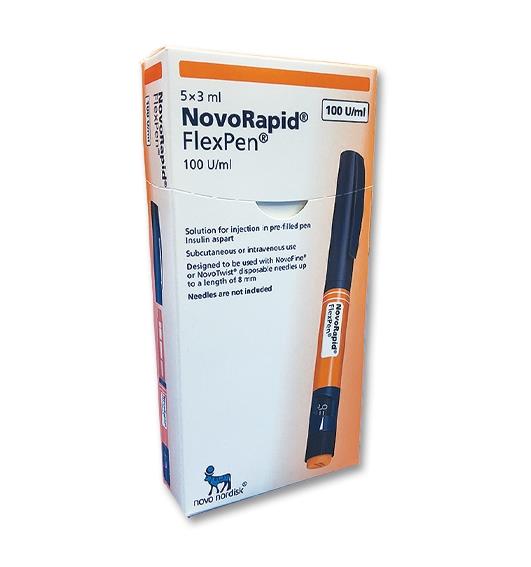 Administration
Administer NovoRapid FlexPen as a subcutaneous injection, injecting it under the skin.

Common sites include the abdomen, thigh, or arm. Alternate injection spots within the same region to minimize the chance of lipodystrophy.

Administer the dose within 15 minutes of commencing your meal or 20 minutes after eating to synchronize with your food intake.

Adhere strictly to the dosing and administration instructions of NovoRapid Flexpen refill provided by your healthcare professional.
How to Store It?
NovoRapid FlexPens should be stored in a refrigerator between 2°C and 8°C. Avoid freezing. Once in use, it can be kept at room temperature (below 30°C) for up to 4 weeks. Keep it away from direct heat and light. Always check the expiration date, and do not use it if it's expired. Keep out of the reach of children.
How Does NovoRapid FlexPens Work?
Here's how the NovoRapid Flex Pens works:
Container: The FlexPen is a pre-filled insulin delivery device. It contains a cartridge filled with NovoRapid (known as insulin aspart), a fast-acting insulin analog.
Dosing Mechanism: There is a dosing mechanism at the bottom of the pen. It allows the user to select the desired dose of insulin. This is typically measured in units. The FlexPen usually allows for doses ranging from 1 to 60 units in 1-unit increments.
Needle: A replaceable needle is at the top end of the pen. NovoRapid FlexPen uses disposable NovoRapid Flexpen refill, which should be changed before each injection.
Dosing Dial: The dosing dial is used to set the desired dose of insulin. You turn the dosing dial to the prescribed number of units you need.
Prime the Pen: Before each use, it's essential to prime the pen. This ensures that the insulin delivery is accurate and that no air bubbles are present in the cartridge or the needle. To prime the pen, a small amount of insulin is expelled from the needle until a droplet appears. This droplet indicates that the pen is ready for use.
Injecting the Insulin: The pen is ready to deliver the insulin after priming. The needle is inserted into the skin, and the dosing button on the pen is pressed. This pushes the plunger inside the cartridge, delivering the selected insulin dose.
Counting the Dose: It's essential to count to ten (slowly) after pressing the dosing button before withdrawing the needle. This helps ensure that the full dose is delivered.
Dispose of the Needle: The needle or NovoRapid Flexpen refill (or NovoRapid Flex Touch Pens) should be safely disposed of in a sharps container after use.
Warnings and Precautions
NovoRapid Flex Pens, containing insulin aspart, requires careful handling such as:
You should monitor hypoglycemia (low blood sugar) symptoms like dizziness and weakness. 

Dosage adjustments may be needed for renal or hepatic impairments. 

Blood glucose levels must be closely monitored, especially during illness or changes in routine. Caution is advised in cases of adrenal, pituitary, or thyroid insufficiency.

It's vital to inform healthcare providers about any medications or supplements being taken. FlexPen and NovoRapid Flex Touch Pens should not be shared, and needles must be disposed of safely. 

Allergic reactions to insulin aspart are possible; seek immediate medical attention if signs of a serious allergic reaction occur, including rash, itching, or severe dizziness. 

Always consult a healthcare professional for personalized guidance before you buy NovoRapid pens online.
Side Effects of NovoRapid FlexPen
NovoRapid FlexPen, like any medication, may have side effects. Common side effects may include:
Hypoglycemia (Low Blood Sugar)

Hyperglycemia (High Blood Sugar)

Injection Site Reactions

Lipodystrophy

Hypersensitivity Reactions

Weight Gain

Edema (Swelling)

Vision Changes

GI Disturbances

Low Potassium Levels (Hypokalemia)
If any side effects persist or worsen, it's crucial to contact a healthcare provider promptly. Additionally, severe allergic reactions (anaphylaxis) are possible, although rare. Seek immediate medical attention if you experience symptoms like rash, itching, severe dizziness, or difficulty breathing after using NovoRapid FlexPen or NovoRapid Flex Touch Pen. Always consult a healthcare professional for personalized advice and guidance when you buy NovoRapid pens online.
Medications That Interact with NovoRapid
NovoRapid (insulin aspart) can interact with several medications. It's important to consult a healthcare professional or pharmacist before starting any new medication while using NovoRapid. Some of the medications that can interact with NovoRapid include:
Oral Diabetes Medications such as sulfonylureas or meglitinides

Beta-Blockers

ACE Inhibitors and ARBs

Thiazide Diuretics

Corticosteroids like prednisone 

Certain Antibiotics like quinolones and sulfonamides

Mao Inhibitors, Monoamine oxidase (MAO) inhibitors

Alcohol

Certain Herbal Supplements like fenugreek and cinnamon

Other Medications (e.g., psychiatric medications, hormonal therapies)
Your doctor can provide specific guidance on managing these interactions and adjusting your insulin regimen if necessary. Always consult a healthcare professional for personalized advice.
Frequently Asked Questions
Can I refrigerate NovoRapid FlexPen?
Yes, NovoRapid FlexPen can be refrigerated. It should be stored in a refrigerator between 2°C to 8°C (36°F to 46°F). However, it should not be frozen. If refrigeration is impossible, it can be stored at room temperature below 30°C (86°F) for up to 28 days.
Can I use NovoRapid FlexPen after the expiration date? 
No, it is not recommended to use NovoRapid FlexPen after the expiration date. Expired insulin may be less effective in controlling blood sugar levels, potentially leading to inadequate treatment. Always check the expiration date and consult a healthcare professional if unsure about using expired medication.
How often should I change the needle on NovoRapid FlexPen?
The needle on the NovoRapid FlexPen should be changed before each injection. This helps ensure accurate dosing and reduces the risk of infection or other complications. Using a new, sterile needle for each injection is a standard practice for insulin delivery to maintain optimal hygiene and effectiveness.
Can I mix NovoRapid with other types of insulin? 
NovoRapid (insulin aspart) can be mixed with certain types of long-acting insulin, but it's crucial to follow specific guidelines provided by your healthcare provider or the manufacturer. Always consult a healthcare professional before mixing insulins to ensure safe and effective administration.
Our Guarantee
You can buy NovoRapid pens online at PolarBearMeds.com for the most competitive pricing from Canada. Rest assured, your order will be dispatched from a licensed Canadian Pharmacy. Our discounted insulin products are swiftly shipped from Canada right to your doorstep. To conveniently order NovoRapid FlexPens from a reputable Canadian Pharmacy at a reduced cost, dial 1-888-779-2193 toll-free.
Reviews