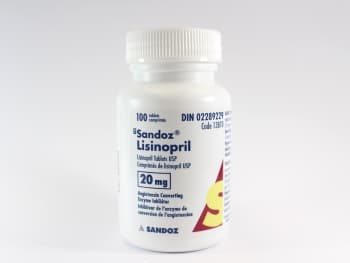 Prinivil, What is it?
Prinivil is a long-acting ACE inhibitor that belongs to the class of pharmaceuticals known as ACE inhibitors. Prinivil comes in generic form with the active ingredient lisinopril to treat hypertension and heart failure and provide support after a heart attack. This drug works by loosening blood vessels, which can help to improve blood circulation. Various Prinivil dosage forms are available, with the precise dosage determined by the medical condition being treated and the patient's response to treatment.
Dosage, Uses, and Storage
Prinivil, or lisinopril, is a medication typically used to treat high blood pressure and heart failure. The dosage of this drug is contingent on the individual's medical condition, with hypertensive patients typically beginning with a dose of 10 mg once a day, potentially increasing to 20 mg. It is imperative to take Prinivil as a doctor prescribes and store it in a cool, dry area out of reach of moisture and sunlight. Additionally, it is paramount to take the medication regularly to ensure its effectiveness.
Dosage of Prinivil
Prinivil requires a dosage based on the patient's medical condition and reaction to treatment. To treat hypertension and heart failure, the commonly prescribed starting amount is 10 mg once per day, which can be increased to 20 mg if necessary. People with renal failure or taking diuretics could begin with lower dosages, such as 2.5 to 5 mg. It is critical to abide by your doctor's instructions regarding dosing and any modifications that may be required.
Uses
One of the primary applications of lisinopril, an ACE inhibitor medication, is to treat hypertension and heart failure. Hypertension, or abnormally high blood pressure, is a common disorder that, if neglected, can lead to life-threatening conditions such as:
Stroke

kidney failure

cardiac disease
Lisinopril works by relaxing the blood vessels, which makes it easier for the heart to pump and reduces its effort. It is also employed to treat heart failure, a situation where the heart cannot supply enough blood for the body's requirements. Moreover, in selected circumstances, lisinopril is useful in treating kidney disorders.
How to store Prinivil
To guarantee the potency and safety of lisinopril, it is essential to store the medication properly. Prinivil, a long-acting ACE inhibitor, should be held at ambient temperature between 68-77 degrees Fahrenheit (20-25 degrees Celsius). It should be kept in a tightly sealed receptacle away from moisture, warmth, and sunshine. It is advised to place Prinivil in a cool and dry area such as a medicine cupboard or drawer. Dodge storing it in the lavatory or kitchen where it could be subjected to dampness or changes in temperature. Also, keep Prinivil out of reach and sight of children and pets to avert inadvertent ingestion. If there are any unused or expired tablets, they should be discarded correctly following local regulations or by consulting a pharmacist.
 Side Effects
Common effects of Prinivil may include
Cough

Headache

Dizziness

lowered spirits

drowsiness

queasiness

stomachache

vomiting

looseness of the bowels

gentle pruritus or skin rash
It is important to note that not everyone will experience these side effects, and some may experience different or additional ones. It is suggested to visit a healthcare professional for more information and assistance managing these side effects.
Warnings and Precautions of Using Prinivil
Warnings and precautions must be adhered to when using Prinivil to guarantee this medicine's secure and successful utilization. It is essential for those taking Prinivil to be mindful of possible risks and take the necessary safety measures to reduce unfavorable impacts.
To begin with, patients must meet with their healthcare provider before beginning Prinivil or any other medications. This will enable the healthcare provider to assess the patient's medical history, present circumstances, and possible medication interactions. Those with particular medical conditions such as diabetes or weakened renal function should avoid Prinivil.
When a medicine's benefits outweigh its known risks, the FDA considers it safe enough to approve. But before using any medicine–as with many things that you do every day–you should think through the benefits and the risks in order to make the best choice for you.

https://www.fda.gov/drugs/information-consumers-and-patients-drugs/think-it-through-managing-benefits-and-risks-medicines
Additionally, care should be exercised when concomitantly administering Prinivil with other drugs that block the renin-angiotensin system, such as sacubitril/valsartan or losartan. Dual blockade of this system can raise the risk of hypotension, hyperkalemia (high potassium levels), and renal impairment.
Patients should also refrain from using nonsteroidal anti-inflammatory drugs (NSAIDs) such as aspirin or ibuprofen without consulting their healthcare provider. These medications can reduce the antihypertensive effect of Prinivil and might lower renal function.
Also, people should be vigilant while driving or operating machinery while taking Prinivil, as it may cause dizziness or lightheadedness. Alcohol and marijuana consumption should also be limited.
Interactions with Other Medication
Interactions between lisinopril and other medications should be carefully examined to guarantee safe and effective treatment. Lisinopril, an angiotensin-converting enzyme (ACE) inhibitor, is widely used to treat hypertension and heart failure and decrease the probability of death after a heart attack. It is essential to take into account that lisinopril has the potential to interact with other medications.
One class of drugs that should be evaded or used as alternatives to lisinopril are nonsteroidal anti-inflammatory drugs (NSAIDs). NSAIDs such as celecoxib, diclofenac, ibuprofen, indomethacin, etodolac, fenoprofen, flurbiprofen, ketoprofen, ketorolac, meclofenamate, mefenamic acid, meloxicam, nabumetone, naproxen, oxaprozin, piroxicam, salsalate, sulindac, and tolmetin can reduce the antihypertensive effect of ACE inhibitors by lessening the synthesis of vasodilating renal prostaglandins. This could lead to weakened renal function.
Moreover, combining sacubitril/valsartan with lisinopril is not recommended due to the heightened risk of angioedema. Other drugs that obstruct the renin-angiotensin system, such as azilsartan, olmesartan, losartan, telmisartan, and valsartan, should also be bypassed or substituted for lisinopril due to increased dangers of hypotension, hyperkalemia, and renal impairment.
Modifications in dosage may need to be made, or alternative medications may need to be regarded in certain situations. Patients should always inform their healthcare providers about all medications, including over-the-counter drugs and supplements, that they are taking to guarantee the secure and effective use of lisinopril.
Frequently Asked Questions
Can Prinivil be used during pregnancy?
Using Prinivil during pregnancy is not recommended as it can harm the unborn baby. It is imperative to consult a physician regarding contraception measures while taking this medication. This is particularly true since many contraceptives can also harm the developing child.
Are there any specific instructions for taking Prinivil with food?
There are no particular guidelines for taking Prinivil with food. However, it can be taken with or without it as directed by your doctor. Sticking to the dosage and administration instructions given by the healthcare professional is essential.
What should I do if I experience prolonged diarrhea or vomiting while taking Prinivil?
If you have been taking Prinivil and have had an extended bout of either diarrhea or vomiting, it is critical to inform your doctor immediately. This will help prevent dehydration and guarantee timely and appropriate medical treatment.
Are there any specific precautions to take while driving or using machinery while on Prinivil?
When taking Prinivil, being vigilant while driving or operating machinery is essential. This medication can cause adverse effects such as dizziness and lightheadedness, which can hamper your aptitude to do these activities safely.