Buy Spiriva (Tiotropium) with HandiHaler Online from Canada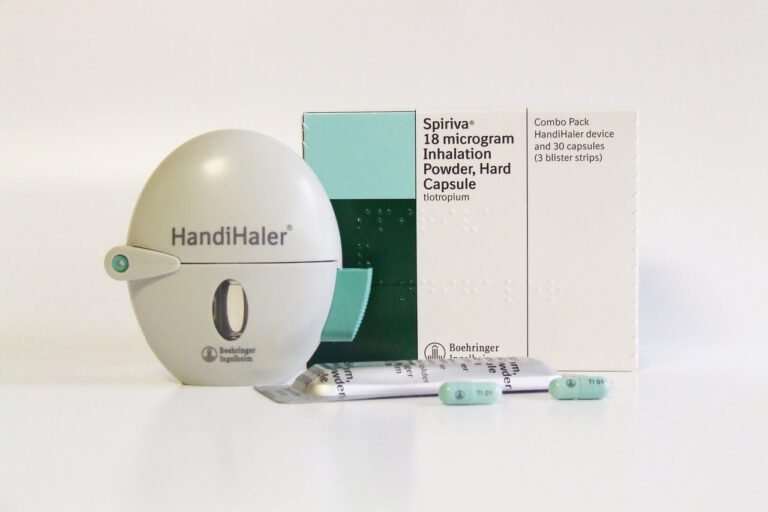 Product Description
What Is Spiriva (Tiotropium Bromide Monohydrate)?
Spiriva HandiHaler is a prescribed medication designed to manage chronic obstructive pulmonary disease (COPD) symptoms effectively. It targets issues like bronchospasm, shortness of breath, and wheezing, providing essential relief to individuals dealing with COPD challenges.
Active Ingredient: Tiotropium
The key component in Spiriva HandiHaler is Tiotropium, belonging to the class of drugs known as anticholinergics. This medication acts specifically on COPD symptoms, helping patients regain control over their breathing and enhancing their overall quality of life.
Spiriva Dosage
Spiriva HandiHaler is supplied in powder-filled capsules, accompanied by an inhaler for drug administration. Each tablet contains 18 mcg of the medication. For adults with COPD, the recommended daily dosage is one capsule (18 mcg). Two puffs are taken once daily using the provided inhaler to ensure proper dosing.
Important Notes:
Spiriva HandiHaler is specifically intended for use in adults and is not suitable for children.

The medication is administered through inhalation, with precise instructions in the packaging for accurate usage. Consult your healthcare provider for personalized dosage instructions and guidance on inhaler use.
How to Use Spiriva HandiHaler?
Prepare Your Posture: Sit upright or stand. Ensure the HandiHaler device is not shaken.
Exhale: Hold the inhaler away from your face. Breathe out without blowing into the inhaler.
Inhale Deeply: Place the mouthpiece between your lips. Close your lips around it and inhale a long, steady breath through your mouth and the inhaler. Inhale quickly and deeply; you should hear the Spiriva capsule vibrating inside.
Hold Your Breath: Remove the inhaler from your lips and hold your breath for 10 seconds or as long as possible.
Exhale Slowly: Breathe out slowly.
Repeat the Process: Repeat steps 1-5, but do not press the green piercing button again. Ensure you inhale each Spiriva capsule twice from the HandiHaler inhaler to receive the total dose.
Dispose of Empty Capsule: Pull up on the mouthpiece, allowing the empty Spiriva capsule to fall into a trash can. Do not touch the empty capsule.
Clean the Device: Hold the HandiHaler upside down and tap it gently to remove any remaining Spiriva powder.
Secure the HandiHaler: Close the mouthpiece, followed by the dust cap. Store the Spiriva HandiHaler until the next dose.
Following these steps diligently ensures the proper administration of Spiriva, providing adequate respiratory support.
What Is Spiriva Used for and How Does It Work?
Spiriva HandiHaler is an inhaler that uses a special breath-activated inhalation technique to deliver the medication to the lungs. The device is designed to make it easier for patients to inhale the medication properly and consistently. The medication is in a dry powder form, which is inhaled through the mouth using the HandiHaler device.
When inhaled, the tiotropium bromide in the Spiriva HandiHaler works by binding to a specific type of receptor in the airways called the muscarinic acetylcholine receptor (M3 receptor). By binding to these receptors, tiotropium bromide helps to relax the smooth muscle in the airways, which helps to open up the airways and improve breathing. It also reduces the amount of mucus in the airways, which can help to reduce coughing and chest congestion.
Warnings and Precautions 
Spiriva HandiHaler serves as a once-daily maintenance therapy for COPD and is not intended for treating acute bronchospasm episodes (rescue therapy).

Immediate hypersensitivity reactions, such as angioedema, itching, or rash, may occur post-Spiriva HandiHaler administration. Cease Spiriva HandiHaler promptly if such reactions manifest; consider alternative treatments. Patients with a history of atropine hypersensitivity should be closely monitored. Caution is advised in patients with severe hypersensitivity to milk proteins.

Patients with this kind of glaucoma must take precautions. Be vigilant for signs like eye pain, blurred vision, or halos around lights. If such symptoms occur, consult a physician immediately.

Inhaled medications, including Spiriva HandiHaler, may induce paradoxical bronchospasm. Discontinue Spiriva HandiHaler if this happens and explore other treatment options.

Patients with moderate to severe renal impairment (creatinine clearance ≤50 mL/min) using Spiriva HandiHaler should be closely monitored for anticholinergic side effects due to its predominantly renal excretion.

Use Spiriva HandiHaler cautiously in patients with urinary retention. Watch for signs of prostatic hyperplasia or bladder-neck obstruction, like difficulty urinating or painful urination. Advise patients to seek medical attention if these symptoms arise.
Spiriva Side Effects
Like all medications, Spiriva HandiHaler (tiotropium bromide) can cause side effects. Common side effects of Spiriva HandiHaler include:
Dry mouth

Constipation

Urinary tract infection

Sinus inflammation

Cough

Headache

Upper respiratory tract infection

Bronchitis

Back pain
However, if these side effects persist or become severe, it is important to speak to your healthcare provider so they can take the appropriate steps to address them. Most commonly, these side effects are mild and go away on their own.
Less common side effects include:
Blurred vision

Eye pain

Glaucoma

Fast or irregular heartbeat

Chest pain

Difficulty urinating
It's important to follow the instructions of your healthcare provider while taking Spiriva HandiHaler, and to inform them of any side effects you experience.
Drug Interaction of Spiriva with HandiHaler
While some medications should never be combined, there are cases where different medicines can be used together, albeit with caution. Your healthcare provider might adjust the dosage or recommend specific precautions. It's vital to inform your healthcare professional about all medications you're taking. The following interactions are highlighted for potential significance, but this list is incomplete.
Not Recommended:
Usually Not Recommended, but Sometimes Required with Adjustments:
Amantadine

Aclidinium

Amitriptyline

Atropine and related drugs

Codeine and various opioids

Antihistamines like diphenhydramine

Antidepressants such as paroxetine

Medications for urinary problems like oxybutynin

Antipsychotic drugs like quetiapine
In cases where both medicines are prescribed, your doctor may modify the dosage or frequency to ensure your safety. Always consult your healthcare provider for personalized guidance on medication combinations.
Foods that Interact with Spiriva
Certain medications can be affected by food, specific types of food, alcohol, or tobacco use. It's essential to consult your healthcare professional regarding the timing of your medication concerning meals and the consumption of alcohol or tobacco, as interactions may arise.
Other Medical Conditions: Inform your doctor about any existing medical conditions, particularly if you have:
Allergy to milk proteins

Difficult urination

Enlarged prostate

Narrow-angle glaucoma

Urinary bladder blockage
Exercise caution when using the medication if you have these conditions, as it might exacerbate the symptoms or interact adversely. Additionally, careful use is necessary for individuals with moderate to severe kidney disease due to potential prolonged effects caused by slower elimination of the medicine from the body.
Frequently Asked Questions
Is Spiriva a steroid, and is it necessary to rinse your mouth after using it?
No, Spiriva is not a Steroid. It is recommended to gargle or rinse your mouth after using the Spiriva inhaler to reduce the potential for experiencing dryness and irritation in the mouth and throat. If you are using multiple inhalers simultaneously, ensure there is a gap of at least 1 minute between each medication to optimize their effectiveness. Proper rinsing and spacing between inhalers contribute to the overall efficacy and comfort of the treatment process.
What strengths does Spiriva have?
Spiriva HandiHaler is available in 18-mcg capsules. You can conveniently buy it from Canada at an affordable Spiriva 18 mcg price through reputable sources like Polar Bear Meds. Canadian pharmacies offer authentic medications online. For inquiries or to buy Spiriva online, you can call us at 1-888-779-2193 toll-free.
Is Spiriva intended for long-term use?
Yes, Spiriva is typically prescribed as a long-term treatment. Upon consultation with your doctor and mutual agreement on its safety and effectiveness for your condition, you can expect to use Spiriva over an extended period. It is important to follow your healthcare provider's guidance regarding its long-term usage.
What are the signs of an overdose with Spiriva HandiHaler?
Overdose symptoms associated with Spiriva HandiHaler include dry mouth and conjunctivitis (pink eye). While rare, there have been reports of individuals experiencing a change in mental status, tremors, abdominal pain, and constipation after the availability of the HandiHaler form. The likelihood of these symptoms occurring due to excessive Spiriva intake is unknown. If you suspect an overdose, promptly contact your healthcare provider. Immediate medical attention is essential if you believe you have used too much Spiriva.
Our Guarantee
PolarBearMeds.com will provide the lowest price to buy Spiriva with HandiHaler from Canada. We guarantee your HandiHaler will be shipped from a Licensed Canada Pharmacy Online. All our discounted medications are shipped from Canada, straight to your doorstep. To order it online at a cheap Spiriva 18 mcg price from a Canadian Pharmacy, just call us at 1-888-779-2193 toll-free.