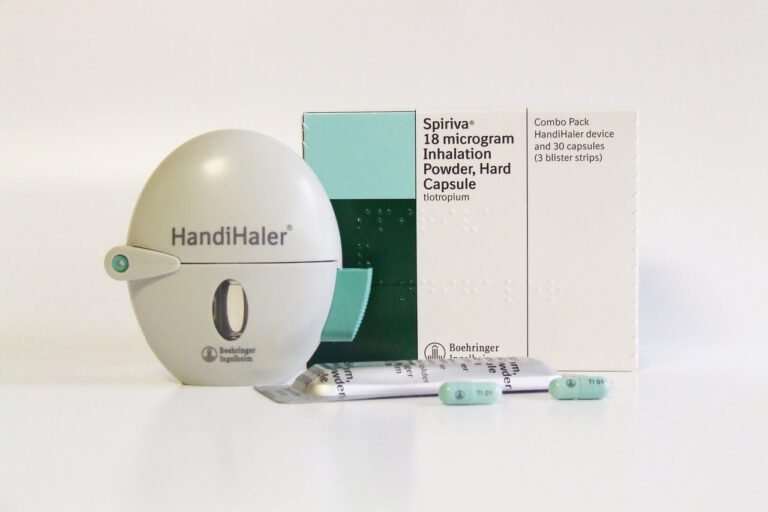 Product Description
What Is Spiriva Handihaler Inhaler?
Spiriva Handihaler is a prescription medication that is used to help control symptoms of chronic obstructive pulmonary disease (COPD) such as bronchospasm, shortness of breath, and wheezing. The active ingredient in Spiriva Handihaler is Tiotropium, which belongs to a class of drugs called anticholinergics.
How Does Spiriva Handihaler Work?
Spiriva Handihaler is an inhaler that uses a special breath-activated inhalation technique to deliver the medication to the lungs. The device is designed to make it easier for patients to inhale the medication properly and consistently. The medication is in a dry powder form, which is inhaled through the mouth using the Handihaler device.
When inhaled, the tiotropium bromide in the Spiriva Handihaler works by binding to a specific type of receptor in the airways called the muscarinic acetylcholine receptor (M3 receptor). By binding to these receptors, tiotropium bromide helps to relax the smooth muscle in the airways, which helps to open up the airways and improve breathing. It also reduces the amount of mucus in the airways, which can help to reduce coughing and chest congestion.
Are There Any Side Effects of Spiriva Handihaler?
Yes, like all medications, Spiriva Handihaler (tiotropium bromide) can cause side effects. Common side effects of Spiriva Handihaler include:
Dry mouth
Constipation
Urinary tract infection
Sinus inflammation
Cough
Headache
Upper respiratory tract infection
Bronchitis
Back pain
These side effects are generally mild and go away on their own. However, if they persist or become severe, it's important to contact your healthcare provider.
Less common side effects include:
Blurred vision
Eye pain
Glaucoma
Fast or irregular heartbeat
Chest pain
Difficulty urinating
It's important to follow the instructions of your healthcare provider while taking Spiriva Handihaler, and to inform them of any side effects you experience.
Our Guarantee
PolarBearMeds.com will provide the lowest price for Spiriva Handihaler Inhaler from Canada. We guarantee your order will be shipped from a Licensed Canada Pharmacy Online. All our discount Insulin products are shipped quickly from Canada, straight to your door. To order this insulin medication online at a cheap discount from a Canada Pharmacy please call us at 1-888-779-2193 toll-free.