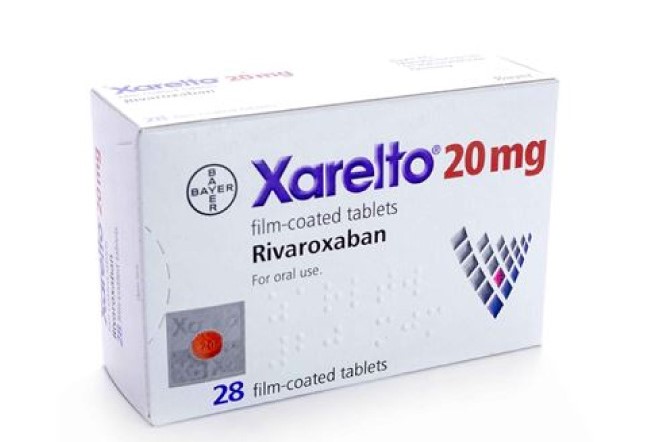 Product Description
XARELTO
Xarelto inhibits the function of specific blood coagulation factors, and it comes in the form of tablets.
Blood clots can be treated or avoided with Xarelto (venous thromboembolism or VTE). Deep vein thrombosis, or DVT, is a condition where blood clots form in the legs (pulmonary embolism, PE).
Blood clots might form when you are extremely ill and unable to move around as much as usual, such as during or after a hospital stay. Moreover, blood clots can form during hip or knee replacement surgery.
After receiving the diagnosis of blood clots for at least six months, Xarelto tablets may be taken to reduce the risk of a DVT or recurring PE.
To reduce the risk of a blood clot-related stroke in persons with atrial fibrillation (a heart rhythm condition), Xarelto tablet is used.
In some patients hospitalized for an acute illness who are at risk of blood clots but do not have a significant risk of bleeding, Xarelto is used to help avoid blood clots.
In addition, Xarelto tablets are administered along with aspirin to patients with peripheral artery disease or coronary artery disease to reduce their risk of stroke, heart attack, or other major heart issues (decreased blood flow to the legs).
Warnings
Do not discontinue taking Xarelto or a rivaroxaban tablet without first seeing your doctor. The risk of a blood clot or a stroke can rise if you stop abruptly.
Xarelto or rivaroxaban tablets may make bleeding more likely. If you experience any bleeding symptoms, such as bleeding gums, nosebleeds, heavy menstrual cycles, abnormal vaginal bleeding, blood in your urine, bloody or tarry stools, bloody or coffee-ground-looking vomit, migraines, or fainting, call your doctor right away.
If you have an artificial heart valve, you should avoid using Xarelto.
When combined with rivaroxaban, a variety of different medications can raise your risk of bleeding. Inform your physician of all medications you have recently taken.
If you have a spinal tap or receive spinal anesthesia, Xarelto may seriously increase the risk of a blood clot forming around your spinal cord (epidural). Any doctor who treats you should be informed that you are taking rivaroxaban.
Prior to Using This Medication
If you are allergic to rivaroxaban or have active or uncontrolled bleeding, you should not use Xarelto.
If you get a spinal tap or receive spinal anesthesia, Xarelto may seriously increase the risk of a blood clot forming around your spinal cord (epidural). Long-term paralysis might result from this sort of blood clot, which may be more likely to happen if:
You have a genetic spinal defect;
A spinal catheter is implanted in you;
You've already had spinal surgery or many spinal taps;
You just experienced an epidural or spinal tap;
Advil, Aleve, Motrin, and other NSAIDs are being used by you; or
You are preventing or treating blood clots with different medications.
Our Guarantee
PolarBearMeds.com will provide the lowest cost for Xarelto from Canada when you buy Xarelto online. We guarantee your medication will be shipped from a Licensed Canada Pharmacy Online. All our discount Insulin products are shipped from Canada straight to your home. To order this medication online at a cheap discount from a Canada Pharmacy, please call us at 1-888-779-2193 toll-free.