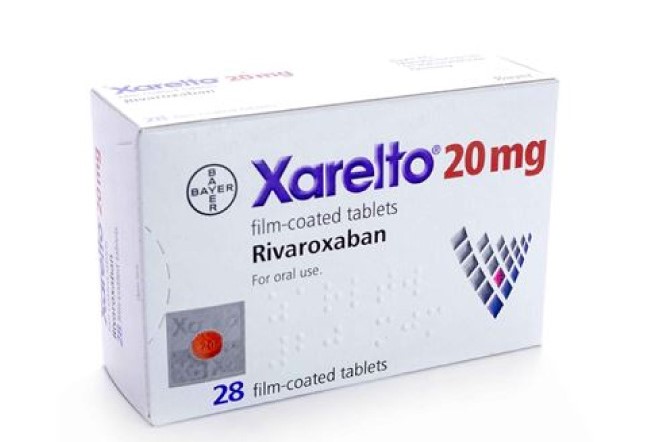 Product Description
Buy Xarelto 2.5 mg Tablet Online
What Is the Xarelto 2.5 Mg Tablet Used For?
Xarelto (rivaroxaban) is an oral anticoagulant, or blood thinner, that belongs to a class of drugs known as Factor Xa inhibitors. It inhibits the function of specific blood coagulation factors and comes in the form of tablets. These tablets are only available as prescription medications.
Blood clots can be treated or avoided with a Xarelto 2.5 mg tablet (venous thromboembolism or VTE). Deep vein thrombosis, or DVT, is a condition where blood clots form in the legs (pulmonary embolism, PE).
Blood clots might form when you are extremely ill and unable to move around as much as usual, such as during or after a hospital stay. Moreover, blood clots can form during hip or knee replacement surgery.
After receiving the diagnosis of blood clots for at least six months, these tablets may be taken to mitigate the risk of a DVT or recurring PE. Xarelto 20 mg tablet is used to reduce the risk of a blood clot stroke in individuals with atrial fibrillation (a heart rhythm condition).
In some patients hospitalized for an acute illness who are at risk of blood clots but do not have a significant risk of bleeding, this blood-thinning medicine is used to help prevent blood clots.
In addition, Rivaroxaban tablets are administered along with aspirin to patients with peripheral artery disease or coronary artery disease to reduce their risk of stroke, heart attack, or other major heart issues (decreased blood flow to the legs).
How to Take Xarelto?
It's crucial to take this tablet exactly as prescribed by your healthcare provider. Here are some general guidelines on how to take this medicine:
It can be prescribed as a once-daily or twice-daily regimen. If you are consuming 15 mg or 20 mg doses, it should be taken with food to enhance absorption. The 10 mg dose can be taken with or without food. Try to take it at the same time every day to maintain a consistent level of the drug in your system.
Missed Dose
If you miss a dose, take it at the earliest moment possible on the same day and resume your regular dosing schedule. If you take it twice a day and miss a dose, take it immediately and continue the next day with your regular schedule. Do not double up quantities to compensate for the missed dose.
Overdose
Never exceed the dosage of Xarelto prescribed by your doctor. If you suspect an overdose, promptly contact your healthcare provider.
Surgery or Procedures: If you are scheduled for any surgery, dental procedure, or medical procedure, inform the doctor or dentist that you are taking this oral tablet, as there might be a need to stop the medication temporarily.
Store Properly: Store this medication at room temperature, away from moisture and heat.
Advantages   
Here are some of the benefits of taking this tablet:
Stroke Prevention:

For individuals with nonvalvular atrial fibrillation (an irregular heart rhythm), Xarelto reduces the risk of stroke significantly.

Treatment of DVT and PE:

It effectively treats deep vein thrombosis (clots in deep veins, usually in the legs) and pulmonary embolism (lung clots).

Prevention of Recurrent DVT and PE:

After an initial event, patients are at risk for recurrent DVT or PE. In this case, a blood thinning medication can reduce this risk.

Once-Daily Dosing:

Depending on the indication, the tablet can often be taken once daily, which may be convenient for some patients.

No Regular Monitoring:

Patients on Xarelto typically don't require regular blood tests (like INR monitoring) to ensure the drug works effectively.

Fewer Food and Drug Interactions:

This medicine has fewer interactions with food and other medications, making management and dosing simpler.

Rapid Onset of Action:

Xarelto has a quick onset of action, which means its anticoagulant effects are seen rapidly after intake.
Side Effects  
While the Xarelto 2.5 mg tablet offers multiple benefits, it's also crucial to be aware of its potential side effects and risks. Immediately reach out for medical attention if you exhibit signs of an allergic reaction to this medication like:
Hives

Difficulty breathing

vomiting

Swelling of the face, lips, tongue, throat

Spinal blood clot

Back pain

Numbness

Tingling

Muscle weakness in the lower body

Loss of bladder or bowel control.
Xarelto can increase the risk of bleeding. Contact your doctor promptly if you observe signs of bleeding, such as:
Unstoppable bleeding (e.g., nose and gum bleedings, heavy menstrual bleeding)

Discomfort, inflammation or uncontrolled bleeding from a wound;

Headaches, lightheadedness, weakness, or a feeling of almost fainting;

Urine that appears red, pink, or brown;

Bloody or tarry stools or vomiting blood resembling coffee grounds;
Interactions of Xarelto
The Rivaroxaban can interact with various medications, potentially affecting its efficacy or increasing the risk of bleeding. Some significant drug interactions with Xarelto include:
Anticoagulants and Antiplatelet Agents: Combining Rivaroxaban with other blood-thinning medications like aspirin, clopidogrel, heparin, or other anticoagulants can increase the risk of bleeding. This combination should be carefully monitored and managed by a healthcare provider.
Non-Steroidal Anti-Inflammatory Drugs (NSAIDs): NSAIDs like ibuprofen and naproxen may increase the risk of bleeding when used with Rivaroxaban. Limit or avoid NSAID use, especially in high doses or for prolonged periods.
Certain Antibiotics: Some antibiotics, such as erythromycin and clarithromycin, may interact with this medication, potentially increasing blood levels and the risk of bleeding.
Antifungal Medications: Certain antifungal drugs, like ketoconazole and itraconazole, can interact with Xarelto, increasing the risk of bleeding.
Selective Serotonin Reuptake Inhibitors (SSRIs) and Serotonin-Norepinephrine Reuptake Inhibitors (SNRIs): These antidepressants, including fluoxetine, sertraline, and venlafaxine, may increase the risk of bleeding when used in combination with Rivaroxaban .
St. John's Wort: This herbal supplement can decrease the effectiveness of Xarelto, potentially increasing the risk of blood clots.
Warnings
Do not discontinue taking Xarelto or a rivaroxaban tablet without first seeing your doctor. The risk of a blood clot or a stroke can rise if you stop abruptly. Consult with your doctor to find out if you're eligible for Rivaroxaban discontinuation.
Xarelto or rivaroxaban tablets may make bleeding more likely. If you experience any bleeding symptoms, such as Gum bleeding, nosebleeds, and excessive menstrual bleeding,Unusual vaginal bleeding, hematuria (blood in the urine), stools that are bloody or have a tar-like appearance, bloody or coffee-ground-looking vomit, migraines, or fainting, Contact your doctor right away.

If you have an artificial heart valve, you should avoid

using Xarelto. When combined

with rivaroxaban, a variety of different medications can raise your risk of bleeding. Inform your physician of all medications you have recently taken.

If you have a spinal tap or receive spinal anesthesia,

then taking rivaroxaban may

seriously increase the risk of a blood clot forming around your spinal cord (epidural). Any doctor who treats you should be informed that you are taking rivaroxaban. Whether you're taking a

Xarelto 2.5 mg tablet

Or a

Xarelto 20 mg tablet, take medical advice from

your primary care physician first.
Before You Buy Xarelto Online from Canada
If you are allergic to rivaroxaban or have active or uncontrolled bleeding, you should not use Rivaroxaban . If you get a spinal tap or receive spinal anesthesia, Xarelto may seriously increase the risk of a blood clot forming around your spinal cord (epidural). Long-term paralysis might result from this sort of blood clot. To ensure Xarelto's safety for you, inform your doctor of any relevant medical history, such as:
You have a genetic spinal defect;

A spinal catheter is implanted in you;

You've already had spinal surgery or many spinal taps;

You just experienced an epidural or spinal tap;

Advil, Aleve, Motrin, and other NSAIDs are being used by you;

You are preventing or treating blood clots with different medications.

If you Buy Xarelto from

Canada, especially

from a Canadian pharmacy Xarelto, it is easier than

buying it from a U.S.A. pharmacy.
Frequently Answered Questions
Are there dietary restrictions with Xarelto similar to warfarin?
Xarelto does not come with dietary restrictions like warfarin. There's no need to modify your consumption of vitamin K-rich foods, such as leafy greens, as they do not impact the effectiveness of this medication.
Does Xarelto 2.5 mg tablet affect blood pressure?
This medicine is a direct oral anticoagulant (DOAC) used to treat and prevent blood clots and is not associated with causing high blood pressure (hypertension) or low blood pressure (hypotension). However, it's worth noting that a sudden decrease in blood pressure can occur if excessive bleeding or a severe allergic reaction results from Xarelto.
What is the mechanism of action of Xarelto?
It functions by inhibiting clotting Factor Xa (10a), a blood protein responsible for controlling bleeding. By doing so, it prevents the formation and progression of blood clots.
When should Xarelto be discontinued before surgery?
It is recommended to discontinue Rivaroxaban ideally 24 hours before surgery for individuals with normal renal function undergoing low bleeding risk procedures. If the procedure carries a high risk, discontinuation should occur 48 to 72 hours before surgery. For individuals with impaired renal function (CLCR of 30-50 ml/min) undergoing low bleeding risk procedures, Xarelto should be stopped 48 hours before or 48 to 72 hours before for high-risk procedures.
Our Guarantee
PolarBearMeds.com will provide the lowest cost for Xarelto from Canada when you buy Xarelto online. We guarantee your medication will be shipped from a Licensed Canada Pharmacy Online. All our discount Insulin products are shipped from Canada straight to your home. Our delivery time is between 8-14 business days, and we also do Xpress Shipping. To order this medication online at a cheap discount from a Canadian Pharmacy Xarelto, please call us at 1-888-779-2193 toll-free.