Buy Humalog Junior Kwikpen 100U/ml from Canada Online
Product Details
What is Humalog Junior (Insulin Lispro)?
Humalog Junior KwikPen offers a convenient solution for individuals requiring precise half-unit insulin dosing, catering to those with insulin sensitivity and certain older adults. This prefilled pen distinguishes itself by its compact, lightweight design, setting it apart from other pens on the market. It meets the specific needs of patients who cannot rely on rounding to the nearest whole-unit dose, providing an essential option within insulin therapy.
How Does Humalog Insulin Work?
Humalog (insulin lispro) is a fast acting insulin that decreases blood sugar levels in the body by releasing a hormone called insulin into the body within 15 minutes of injection. It is designed to work for two to four hours after injection and starts working within the body within 15 minutes of injection.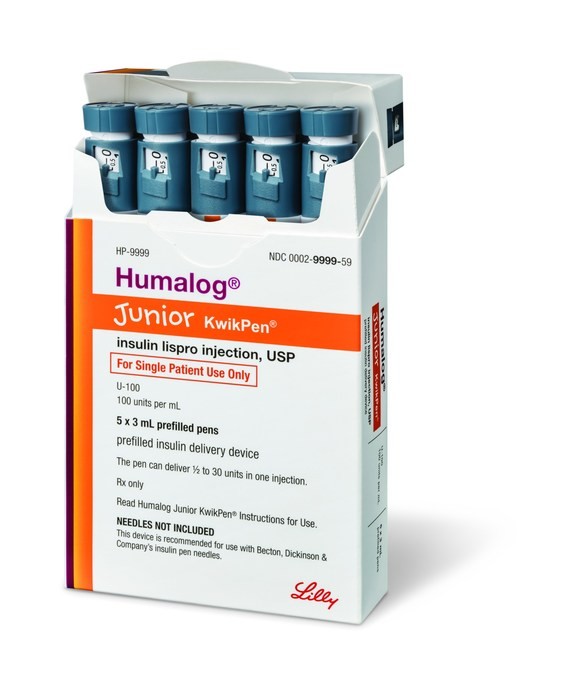 How Is Humalog Junior Kwikpen Taken?
When using Humalog Junior KwikPen to manage your insulin levels, it's essential to understand the dosage and how to administer it accurately. Here's a step-by-step guide to ensure proper dosage:
Dosage Range
You can administer from ½ unit (0.5 unit) to 30 units in a single injection.

If your prescribed dose exceeds 30 units, consult your healthcare professional. They will guide you on the appropriate administration method, which may involve multiple injections.
Dosing Instructions
Choose the number of units you want to inject by turning the Dose Knob. The Dose Indicator should align with your required dose.

The Pen adjusts in ½ unit (0.5 unit) increments per turn. Each click signifies a ½ unit.
Important: Do not rely on counting clicks to set your dose, as this can lead to incorrect dosing. If a mistake occurs, the dose can be corrected by turning the Dose Knob in either direction until the correct dose aligns with the Dose Indicator. Whole unit numbers are clearly marked on the dial, and half units are indicated by lines between the numbers.
Double-Check Your Dose
Always verify the number displayed in the Dose Window to ensure the correct dosage has been dialed.

For instance, if you see "4 units" in the Dose Window or "10 ½ (10.5) units," you have correctly set your dosage.
Handling Limited Insulin Supply
The Pen prevents overdosing by restricting the dosage to the remaining units in the Pen. If your required dose exceeds the remaining units, you have two options:
Administer the remaining amount in your

Humalog

Pen, and then use a new Humalog Pen for the rest of your dose.

Alternatively, obtain a new Pen and inject the total prescribed dose.
Note: A slight residue of insulin may remain in the Pen after use, which is normal and cannot be injected.
Needle Usage and Priming
Use a new needle for each injection to ensure sterility and effectiveness.

Prime the Pen before each injection, as directed by your healthcare provider, to guarantee proper insulin delivery.
Remember, it's crucial to consult your healthcare professional for personalized instructions tailored to your specific insulin requirements. Accurate dosage and administration are critical to effectively managing your diabetes with Humalog Jr KwikPen.
Warnings for Using Insulin Lispro Injection
Before using Humalog insulin lispro, it is crucial to consider the following factors:
Allergies and Hypoglycemia: Do not use insulin lispro if you are allergic to it or are experiencing hypoglycemia (low blood sugar) episodes.
Age Restrictions: Insulin lispro should not be administered to children below the age of 3. Additionally, it is not suitable for treating type 2 diabetes in children of any age.
Medical History: Inform your doctor if you have a history of kidney or liver disease, heart problems, or low potassium levels in your blood (hypokalemia).
Oral Diabetes Medications: If you take medications containing pioglitazone or rosiglitazone, consult your doctor. The concurrent use of certain oral diabetes medicines with insulin may elevate the risk of severe heart problems.
Pregnancy and Breastfeeding: Notify your doctor if you are pregnant or breastfeeding. It is essential to adhere to your doctor's instructions regarding insulin use during pregnancy. Proper diabetes management is critical during pregnancy, as levels of high blood sugar (glucose) can lead to complications for both the mother & the baby.
Side Effects of Humalog Jr 100 Unit/ml KwikPen
Like any medication, Humalog Jr 100 Unit/ml KwikPen may cause side effects, some of which can be serious. It is crucial to be aware of these potential effects and seek medical attention if any symptoms arise.
Common Side Effects
Low Blood Sugar (Hypoglycemia):

Low blood sugar can lead to unconsciousness, seizures, or even death. Various factors, including excessive Humalog intake, can cause low blood sugar. Prompt treatment is vital; mild to moderate symptoms can often be alleviated by consuming a quick source of sugar. Symptoms may vary among individuals. It is imperative to discuss low blood sugar symptoms and treatments with your healthcare provider.

Allergic Reactions:

Humalog Jr KwikPen may trigger severe, whole-body allergic reactions. Seek immediate medical help if you experience a widespread rash, difficulty breathing, rapid heartbeat, or excessive sweating.

Low Potassium Levels (Hypokalemia):

Humalog Junior KwikPen can cause life-threatening low potassium levels, resulting in breathing difficulties, irregular heartbeat, or fatality. Regular monitoring of potassium levels is essential.

Serious Side Effects with Thiazolidinediones (TZDs):

When taken alongside specific medications called thiazolidinediones or "TZDs," Humalog Jr KwikPen can lead to severe side effects, including swelling in the hands and feet and heart failure. Even individuals with no previous heart problems may experience these symptoms. If you notice swelling in the ankles or feet, shortness of breath, or sudden weight gain, inform your healthcare provider promptly. Adjustments to TZD or Humalog treatment may be necessary.
Other Common Side Effect
Injection Site Reactions:

Allergic reactions at the injection site, skin thickening, pits at the injection site (lipodystrophy), itching, and rash are common but not exhaustive side effects associated with Humalog Junior KwikPen.
This overview does not encompass all possible side effects. For further information or medical advice regarding Humalog Jr KwikPen, consult your healthcare provider. Your safety & well-being are of paramount importance.
Humalog Jr KwikPen Interactions
Humalog, a medication containing insulin lispro, has the potential to interact with various drugs such as albuterol, clonidine, reserpine, guanethidine, and beta-blockers. It is crucial to be aware that the effects of insulin lispro on blood sugar levels can be influenced by numerous other medications.
Therefore, you must consult your doctor about potential interactions, as they can provide personalized guidance on managing your medication regimen effectively and safely. Understanding these interactions is fundamental to ensuring the optimal efficacy and safety of your diabetes management plan.
Frequently Asked Questions
How should I dispose of used needles after injecting insulin with Humalog?
Do not throw used needles directly into the household trash can. Rather than putting them in the garbage, you should put them in a sharp or hard plastic container with a tight-fitting lid. Do not place used needles in the garbage can directly.
Can I recycle the filled sharps container used for disposing of needles from Pen?
No, you should not recycle the filled sharps container. Ask your healthcare professional about proper disposal options or visit the Canadian Diabetes Association website for information on sharps disposal.
How should I store unused Humalog Junior KwikPen?
Store unused pens in the refrigerator at 2°C to 8°C. Do not freeze Humalog. As long as the pens have been kept inside the refrigerator, unused pens should be able to be used until the expiration date printed on the label.
How long can I use the Pen, and where should I store it?
Storing the Humalog Junior KwikPen you are currently using is crucial under optimal conditions. The pen should be kept at room temperature, not exceeding 30°C, and away from direct heat and light exposure. These precautions ensure the stability and effectiveness of the insulin contained within the pen, allowing it to maintain its therapeutic properties.
Additionally, it is essential to adhere to a strict disposal protocol. Regardless of whether there is remaining insulin, the used pen should be discarded after 28 days of use. Even if there appears to be insulin left, the 28-day limit is in place to guarantee the safety and efficacy of the medication. Following these guidelines ensures that you consistently receive the intended dosage of insulin, contributing significantly to the management of your diabetes. Proper storage and disposal practices are fundamental to your overall health and well-being.
What should I do if I have difficulty removing the Pen Cap or if the Dose Knob is hard to push?
If you are unable to remove the Pen Cap, you can gently twist it back and forth a few times, and then pull it straight off. If you are having difficulty pushing the Dose Knob, it may be easier to inject if you push it very slowly. If the problem persists, check if your needle is blocked, replace it, and prime the Pen. If there is still difficulty, it may be due to dust, food, or liquid inside the Pen, in which case, the Pen should be discarded and a new one obtained.
Is it safe to use a Humalog insulin lispro if any part looks broken or damaged?
It is imperative to prioritize your safety and adhere to proper usage guidelines. Under no circumstances should you utilize the Pen if any component appears broken or damaged. Ensuring the device's integrity before each use is paramount, as it guarantees not only your safety but also the effectiveness of the medication delivery process.
Maintaining the Pen in pristine condition safeguards your well-being and ensures the consistent and reliable administration of your medication. Always exercise caution and vigilance to uphold the highest standards of safety and efficacy in your healthcare routine.
Our Guarantee
Polarbearmeds.com will provide the lowest price for Humalog Junior KwikPen from Canada. All our products, including Humalog insulin, are shipped quickly from Canada, straight to your door when you buy it online. To order this Insulin Lispro Injection online at a cheap discount from a Canadian Pharmacy, please call us at 1-888-779-2193 toll-free.