Product Details
What is Humalog Junior KwikPen?
Humalog Junior KwikPen, which is lighter and shorter than other half-unit insulin pens, provides an option for people who prefer a prefilled pen and need the precision of half-unit dosing, such as those with insulin sensitivity and some older adults for whom rounding to the nearest whole-unit dose is not adequate.
Who Should Not Take Humalog Junior KwikPen?
Do not take Humalog Junior KwikPen if your blood sugar is too low (hypoglycemia) or if you are allergic to insulin lispro or any of the ingredients in Humalog.
Before Using Humalog Junior KwikPen, What Should I Tell My Healthcare Providers?
About all of your medical conditions, including liver, kidney, or heart failure or other heart problems.
If you are pregnant, planning to become pregnant, or are breastfeeding.
About all the medicines you take, including prescription (especially ones commonly called TZDs [thiazolidinediones]) and nonprescription medicines, vitamins, and herbal supplements.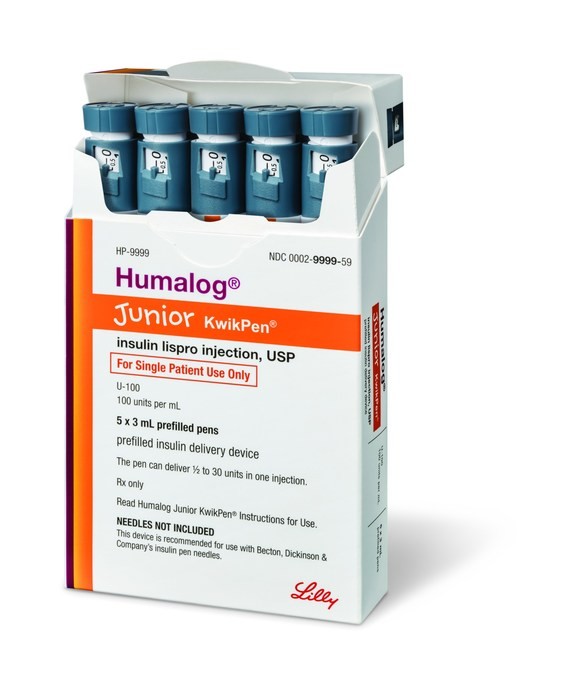 How Should I Use Humalog jr 100 unit/ml KwikPen?
Humalog Junior KwikPen is a rapid-acting insulin. Take Humalog within fifteen minutes before eating or right after eating a meal.
Always make sure you receive the correct type of Humalog from the pharmacy.
Do not use Humalog KwikPen jr if it is cloudy, colored, or has solid particles or clumps in it.
Inject Humalog Junior KwikPen under your skin (subcutaneously). Never inject into a vein or muscle. Change (rotate) your injection site with each dose. Make sure you inject the correct insulin and dose.
Do not re-use needles. Always use a new needle for each injection. Re-use of needles can cause you to receive the wrong dose of Humalog and result in infection.
Do not drive or operate heavy machinery until you know how Humalog affects you. Do not use alcohol while using Humalog.
What Are the Possible Side Effects of Humalog Junior KwikPen?
Severe low blood sugar can cause unconsciousness (passing out), seizures, and death. Low blood sugar is the most common side effect. There are many causes of low blood sugar, including taking too much Humalog. It is important to treat it quickly. You can treat mild to moderate low blood sugar by drinking or eating a quick source of sugar right away. Symptoms may be different for each person. Be sure to talk to your healthcare provider about low blood sugar symptoms and treatment.
Severe life-threatening allergic reactions (whole-body reactions) can happen. Get medical help right away if you develop a rash over your whole body, have trouble breathing, have a fast heartbeat, or are sweating.
Humalog Junior KwikPen can cause life-threatening low potassium in your blood (hypokalemia), which can cause severe breathing problems, irregular heartbeat, and death.
Serious side effects can include swelling of your hands and feet and heart failure when taking certain pills called thiazolidinediones or "TZDs" with Humalog Junior KwikPen. This may occur in some people even if they have not had heart problems before. Tell your healthcare provider if you have shortness of breath, swelling of your ankles or feet, or sudden weight gain, which may be symptoms of heart failure. Your healthcare provider may need to adjust or stop your treatment with TZDs or Humalog.
The most common side effects of Humalog Junior KwikPen include low blood sugar, allergic reactions, including reactions at your injection site, skin thickening or pits at the injection site (lipodystrophy), itching, and rash. These are not all of the possible side effects. Ask your healthcare provider for more information or for medical advice about side effects.
Our Guarantee
Polarbearmeds.com will provide the lowest price for Humalog Junior KwikPen from Canada. We guarantee your order will be shipped from a Licensed Canadian Pharmacy. All of our discount Insulin products are shipped fast from Canada, straight to your door. To order this insulin medication from a Canada pharmacy online at a cheap discount from a please call us at 1-888-779-2193 toll-free.