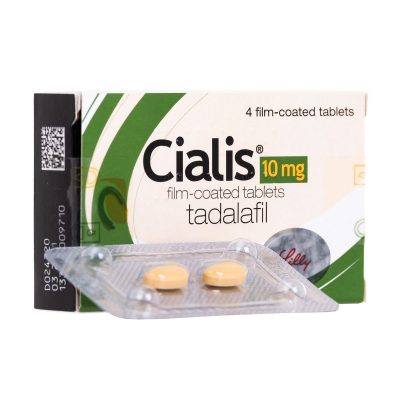 Product Description
What is Cialis?
Cialis is a prescription drug employed to manage male sexual dysfunction, such as impotence or erectile dysfunction (ED), and indications of benign prostatic hyperplasia (BPH) in males. Cialis belongs to a type of medicine known as phosphodiesterase type 5 inhibitors. It helps loosen the blood vessels in the penis, allowing sufficient blood circulation and enhancing erectile operation.
Dosage, Uses, and Storage of Cialis from Canada
Cialis is available in various dosages: 2.5 mg, 5 mg, 10 mg, and 20 mg; it has several uses and storage guidelines that should be followed appropriately to increase its potency.
Dosage of Cialis
The suggested dosage of Cialis for treating erectile dysfunction and benign prostatic hyperplasia is up to 20 mg daily, with smaller amounts being more suitable for elderly individuals or those with kidney or liver issues. The recommended dose for daily usage in ED is 2.5 mg, taken once daily, which may be raised to 5 mg if lower amounts are ineffective. For occasional ED, 10 mg should be taken before sexual activity; however, if side effects occur at this amount, a 5 mg dose may be prescribed instead.
The highest safe daily dosage of Cialis is 20mg. For BPH, the normal dosage is 5mg taken daily. Taking more than the suggested dosage can heighten the risk of side effects and should only be done under medical supervision. Older adults (including those 70) have the same dosages as other adults; however, persons with kidney or liver problems may require a lower dosage.
Taking Cialis as guided by your doctor and not exceeding one dose per day is essential. If a dose of Cialis is missed, it should be taken as soon as remembered, but no more than one dose should be taken in a day.
Uses of Cialis
Tadalafil, commonly called Cialis, is a medication used to treat erectile dysfunction (ED) and the signs of benign prostatic hyperplasia (BPH) in mature males. It can also improve exercise capacity in people with pulmonary arterial hypertension (PAH). Tadalafil works by increasing blood flow to the penis during sexual arousal. It should be taken as prescribed, and the dosage should not be exceeded. The following are some of the important points related to its use:
How to store Cialis
It is vital to store Cialis correctly to guarantee it stays effective and secure. The medication should be kept between 15°C and 30°C, in its original packaging, and out of reach of kids. Expired Cialis should be disposed of in the trash and not be poured down the toilet; blending expired Cialis with substances such as soil, kitty litter, or coffee grounds is recommended before disposal.
It is essential to use Cialis before its expiration date to get maximum effectiveness; the FDA demands all medications possess an expiration date printed on their packaging. Additionally, it is essential to keep Cialis away from heat, light, air, and moisture. The medication should stay within its initial container and not be stored in a pill organizer. Appropriate storage will help keep the effectiveness of the medication and guarantee safety for use.
Cialis vs. Viagra
Comparing Cialis and Viagra, two widely-used drugs for erectile dysfunction, can help individuals determine the best remedy. Both pharmaceuticals are PDE-5 inhibitors, which relax the smooth muscles in the penis to improve blood flow. Viagra contains sildenafil as its chief ingredient, while Cialis has tadalafil. Cialis is faster-acting with effects that last up to 36 hours, compared to the 4-6 hours for Viagra.
Cialis should be taken at least 30 minutes before sexual activity, whereas Viagra needs to be taken 1 hour before. Intake of alcohol should be limited when taking either of these drugs. A prescription is necessary for both medications, and the cost may vary based on the brand selected. The efficacy of these treatments is individual-dependent and should be discussed with a doctor before beginning either medication.
Cialis is different from other currently approved products for ED in that it stays in the body longer. However, there were no studies that directly compared the clinical efficacy and safety of Cialis to other products.

https://www.fda.gov/drugs/postmarket-drug-safety-information-patients-and-providers/questions-and-answers-cialis-tadalafil
Side Effects of Cialis
Side effects associated with Cialis can vary, with the most common being:
Headache

Indigestion

back pain

muscle aches

flushing

stuffy or runny nose
However, more serious issues can occur when the medication is taken, including a sudden decrease or loss of vision, a severe loss of hearing, and an erection lasting over four hours. It is important to note that Cialis should not be taken with nitrates or recreational drugs, as this can lead to an abrupt drop in blood pressure which can be life-threatening. Additionally, allergic reactions to Cialis should not go unnoticed and should be reported to a healthcare provider.
Warnings and Precautions of Using Cialis Canada
When taking Cialis, it is of utmost importance to be conscious of the potential risks and adverse effects associated with its use. Patients should not use Cialis if they are consuming nitrates or poppers or if they have had an allergic reaction to tadalafil or any other components in Cialis.
People with these conditions must notify their doctor before using this drug:
Stroke

low blood pressure

uncontrolled high blood pressure

liver or kidney issues

sickle cell anemia

multiple myeloma

leukemia

peptic ulcers

bleeding problems

deformed penis shape
Additionally, those who feel chest pains during intercourse or prolonged erections lasting more than 4 hours must immediately seek medical support.
Drug Interactions
It is essential to grasp the potential drug interactions of Cialis before utilizing the medication. Interactions may occur with specific medications, including rifamycins such as rifampin and rifabutin, antifungals like ketoconazole and itraconazole, certain antibiotics like clarithromycin, telithromycin and erythromycin, and medicines for erectile dysfunction or pulmonary arterial hypertension (PAH).
Medications for high blood pressure can interact with alpha-blockers and must not be taken together. HIV protease inhibitors, including ritonavir, can interact with alpha-blockers and should not be administered simultaneously. Furthermore, those taking nitrates or poppers must not take Cialis as it could cause a sudden decline in blood pressure, which can be life-threatening.
Those with cardiac issues should also avoid Cialis, as sexual activity is risky for those with certain cardiac conditions. In addition, patients must tell their physician if they have a past stroke, low blood pressure, uncontrolled high blood pressure, liver or kidney problems, sickle cell anemia, multiple myeloma, leukemia, peptic ulcers, or bleeding difficulties before taking Cialis. Hence, it is vitally important that patients consult their doctor about any medical worries before taking this medication.
Frequently Asked Questions
How long does it take for Cialis to start working?
Cialis typically commences working roughly half an hour after ingestion, and its effects can last up to 36 hours. Delving further, its effects can be felt even longer, as they may continue to be experienced up to 72 hours after ingestion.
Is Cialis available without a prescription?
Cialis can only be purchased when a valid prescription has been obtained from a certified Canadian pharmacy referral service like Polarbearmeds.com. Taking the drug without consulting a medical professional or without their supervision is unsafe and not recommended.
Are there any other drugs or treatments that interact with Cialis?
Yes, some other drugs and treatments may interact with Cialis. These include nitrates, rifampin, ketoconazole or itraconazole, erythromycin, protease inhibitors, alpha-blockers for BPH symptoms, and HIV protease inhibitors. All of these should be considered, as they may cause changes in the effectiveness of Cialis.