Buy Invokana Online from the Best Canadian Pharmacy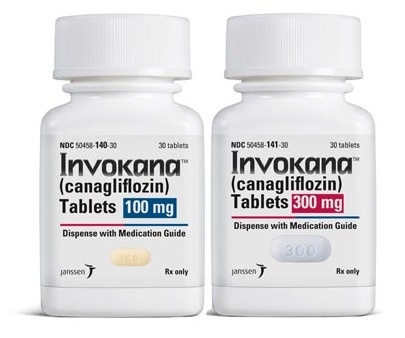 Product Description
What are Invokana
(Canagliflozin) Tablets
?
Invokana (canagliflozin) is a diabetic medication that comes in tablet form. It belongs to a class of drugs called sodium-glucose cotransporter 2 (SGLT2) inhibitors. Invokana is the trade name for the medication.
Invokana tablets contain the active ingredient canagliflozin, which is a white to off-white powder. These tablets are formulated with the following inactive ingredients: microcrystalline cellulose, crospovidone, colloidal silicon dioxide, magnesium stearate, and sodium lauryl sulfate.
What
Is
Invokana Canagliflozin Used For?
Invokana Canagliflozin improves blood sugar control in adults with type 2 diabetes by helping the kidneys remove glucose. Invokana canagliflozin tablets are used as an adjunct to diet and exercise to improve glycemic control in adults with type 2 diabetes.
How Does Invokana Canagliflozin Work?
Invokana works by preventing specific proteins in the kidney from reabsorbing sugar into the blood. Your body excretes more sugar in urine as a result of it. This objective can be achieved by combining Invokana with other type 2 diabetes medications, such as metformin.
Dosage Guidelines for Invokana Tablets
Invokana (canagliflozin) comes in 2 doses: Invokana 100 mg and Invokana 300 mg. The recommended starting dose for is 100 mg once daily, taken orally with or without food. The dosage can be increased to 300 mg once daily, based on individual patient response and tolerability. Invokana canagliflozin tablets are used as an adjunct to diet and exercise to improve glycemic control in adults with type 2 diabetes.
It's essential to follow your healthcare provider's instructions while taking Invokana canagliflozin tablets. The dosage may be adjusted based on the patient's blood sugar levels and response to the treatment. Monitoring blood sugar levels regularly while on the treatment is also important.
It's important to note that Invokana canagliflozin tablets should not be used in patients with type 1 diabetes or for treating diabetic ketoacidosis. Also, Invokana should not be used in patients with severe renal impairment or end-stage renal disease, and it should be used with caution in patients with moderate renal impairment. It's always important to consult with your healthcare provider before starting or adjusting the dosage of any medication and not to make any changes without their guidance.
Side Effects and Warnings
Increased Risk of Lower Limb Amputations: Invokana carries a severe warning for an elevated risk of lower limb amputations. Both Invokana 100 mg and Invokana 300 mg doses of Invokana were associated with this risk. Amputations of the toe, middle of the foot, and even below or above the knee occurred.
Dehydration and Low Blood Pressure: Invokana causes increased urination, leading to potential dehydration. This may result in dizziness, lightheadedness, fainting, or weakness, particularly when standing up. Those taking the 300 mg dose, individuals aged 75 or older, or those using diuretics face a higher dehydration risk. Individuals with low blood pressure, kidney problems, or low sodium diets are also at risk.
Genital Yeast Infections: SGLT2 inhibitors, including Invokana, may cause genital yeast infections. Symptoms in men include: 
Itching

Vaginal Odor 

Abnormal Discharge

Burning Discomfort

Painful Urination

Swelling
(Women faced a higher incidence of these infections in clinical studies.)
Ketoacidosis: Invokana may lead to ketoacidosis, a severe condition marked by increased ketones in the blood or urine. This may necessitate hospitalization and can be fatal. Symptoms include:
Nausea

Tiredness

Vomiting

Trouble Breathing

Abdominal Pain
Urinary Tract Infections (UTIs): Serious UTIs are a potential risk with Invokana. Symptoms include: 
A burning sensation during urination

Frequent urination

Urgent need to urinate

Pelvic pain

Blood in urine

Fever

Back pain

Nausea or vomiting
Sudden Kidney Problems: Acute kidney injury is a profound potential side effect. Individuals with kidney disease may require a dose adjustment, and treatment might need to be temporarily discontinued if dehydration occurs.
Low Blood Sugar (Hypoglycemia): Invokana, combined with other medications causing low blood sugar, can lead to hypoglycemia. Symptoms include:
Headache

Drowsiness

Confusion

Weakness

Irritability

Hunger

Fast Heartbeat

Sweating

Shaking
Necrotizing Fasciitis of the Perineum (Fournier's Gangrene): A rare but severe bacterial infection causing tissue damage in the perineum area. Symptoms include: 
Pain

Tenderness

Swelling

Redness of the Skin
Seek immediate medical support if these signs are observed.
What Other Drugs Interact with Invokana?
There are a total of 368 drugs that have been reported to interact with Invokana (canagliflozin). Here are some of them: 
Omeprazole

Glimepiride

Crestor 

Lisinopril

Metformin

Fish Oil 

Aspirin

Atorvastatin

Hydrochlorothiazide

Pantoprazole

Lantus Solostar 

Januvia

Vitamin D3 

Gabapentin

Lantus

Furosemide

Levothyroxine

Metoprolol

Vitamin B12 

Trulicity 

Simvastatin

Amlodipine

Glipizide

Losartan

Jardiance

Lyrica 

Aspirin Low Strength

Fenofibrate
Frequently Asked Questions
Are Invokana and Jardiance identical medications?
While both Invokana and Jardiance fall within the same drug class, they are distinct pharmaceuticals. Jardiance is the brand name for empagliflozin, whereas Invokana® is the brand name for canagliflozin. It is important to note that Invokana® carries an increased risk of lower leg amputation.
Is it safe to use Invokana during pregnancy?
Using Invokana during pregnancy may pose risks to your unborn child. If you discover you are pregnant while taking Invokana, it is crucial to inform your doctor promptly. Your doctor will guide you on the most appropriate steps to manage your blood sugar effectively while pregnant. 
Prioritizing open communication with your healthcare team is essential to ensuring the well-being of both you and your baby during this period. Always follow your healthcare provider's advice and closely monitor your health for a safe and healthy pregnancy journey.
What is the potential weight loss achievable with Invokana?
Invokana has demonstrated consistent weight loss effects when used independently or in conjunction with standard diabetes medications like metformin and sulfonylureas. Research indicates that individuals taking the 300 mg dose, either as a monotherapy or in combination with other diabetes drugs, may experience a weight reduction of approximately 6-9 pounds within a span of six months.
It's essential to note that individual responses can vary, and weight loss outcomes may be influenced by factors such as lifestyle, diet, and overall health. Regular consultation with a healthcare professional is crucial to monitor progress and tailor the treatment plan for optimal results.
When is the ideal time to take Invokana, morning or night?
It is advisable to take Invokana before your first meal, typically breakfast. While Invokana can be taken with or without food, scheduling it before breakfast ensures optimal absorption and effectiveness. Always adhere to your doctor's instructions meticulously. 
It's essential to take your prescribed dose consistently, as your dosage may be adjusted over time or used in conjunction with other type 2 diabetes medications to manage your condition and overall health best. Regular communication with your doctor will help ensure your treatment plan is customized to your needs and circumstances.
Our Guarantee
PolarBearMeds.com will provide the lowest price to buy Invokana online from Canada. We guarantee your order will be shipped from a Licensed Canada Pharmacy Online. All our Insulin products are shipped quickly from Canada to your door. To order this insulin medication online at a cheap discount from a Canadian Pharmacy, please call us at 1-888-779-2193 toll-free.