Buy Janumet XR Online from the Best Canadian pharmacy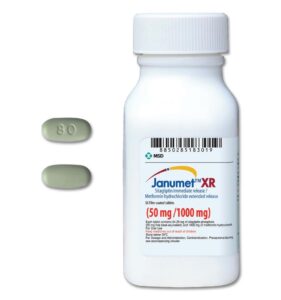 Product Description
What Is Janumet XR?
Janumet XR is a prescription oral medication explicitly designed to assist adults diagnosed with type 2 diabetes manage their blood sugar levels effectively. It comprises two essential prescription medicines, Sitagliptin (Sitagliptin Phosphate) and Metformin (Metformin Hydrochloride), which work in tandem to achieve optimal results.
What Is It Prescribed For?
Doctors prescribe Janumet XR for adults diagnosed with type 2 diabetes. When complemented with a balanced diet and regular physical activity, it plays a pivotal role in regulating blood sugar levels. By addressing the underlying insulin resistance and glucose overproduction, Janumet XR aids in achieving and maintaining stable blood sugar levels, thereby reducing the risk of diabetes-related complications.
How Does Janumet Xr Work?
Janumet XR mechanism involves a combination of two potent antidiabetic drugs. Let's understand their roles:
Sitagliptin's Role
Sitagliptin, a member of the DPP-4 inhibitor class, plays a pivotal role. It assists your pancreas in producing more insulin, a hormone crucial for regulating blood sugar. By amplifying your body's insulin output, Sitagliptin ensures more efficient utilization of insulin, especially after meals, when blood sugar levels tend to spike. Notably, Sitagliptin goes beyond insulin enhancement. It curtails the excess sugar production by your liver, a common issue in diabetes, without inducing the risk of low blood sugar, a common side effect observed with other antidiabetic medications.
Metformin's Contribution
Metformin, a prominent biguanide, complements Sitagliptin's actions. Its primary function is to reduce the sugar production by your liver, addressing a fundamental aspect of diabetes management. Metformin significantly stabilizes your blood sugar levels by limiting the liver's sugar output, promoting overall glycemic balance.
Janumet XR Dose
Janumet XR Dosing Instructions
Janumet XR doses can be taken under various conditions, depending on your existing medication regimen. You can:
Independently take Janumet XR without combining it with Sitagliptin and Metformin.

Combine Janumet XR with a Sulfonylurea medication.

Combine Janumet XR with premixed or long-to-intermediate-acting insulin types.

Take Janumet XR with Pioglitazone.
Administration Guidelines
Always take Janumet XR with meals to minimize the risk of an upset stomach.

Swallow the tablets whole; do not break or cut them before swallowing.

Avoid missing doses and consistently follow your doctor's prescribed dosage.
Individualized Dosing (Janumet XR 50 mg/1000 mg)
Dosage requirements differ for each individual and are tailored based on factors such as your lifestyle, tolerability, and the medication's effectiveness.

The maximum recommended daily dose is Metformin 2000mg & Sitagliptin 100mg, taken orally.

If not currently on Metformin, the standard dose is 500mg of Metformin and 50mg of Sitagliptin, taken orally twice daily.

For those already on Metformin, the typical dose is 50mg of Sitagliptin in addition to your current Metformin dosage, taken orally twice a day.

Individuals on a high daily dose of Metformin may take 1000mg of Metformin and 50mg of Sitagliptin orally twice a day.
Strict adherence to your doctor's prescribed dosage is vital for effective management of your condition. Regular consultations with your healthcare provider ensure your treatment plan fits according to your specific needs and response to the medication.
Warnings and Precautions
Before initiating Janumet, inform your doctor if you:
Have a history of pancreatitis (inflammation of the pancreas).

Suffer from severe kidney problems or liver problems.

Have a medical history of heart problems, including congestive heart failure.

Regularly consume alcohol or engage in binge drinking.

Require injections of dye or contrast agents for imaging procedures; your dosing may need adjustment temporarily.

Have any other existing medical conditions.
For Pregnant and Breastfeeding Individuals:
Pregnant women and those planning to become pregnant should consult their doctors about managing their blood sugar levels. The impact of Janumet on unborn babies is not yet fully understood.

Discuss potential options with your healthcare provider if you are breastfeeding or planning to breastfeed. The drug may pass through the breast milk, but this is not yet known.
Immediate Medical Attention Required if You Experience Symptoms of Lactic Acidosis:
Stop taking Janumet and seek medical help if you encounter symptoms of lactic acidosis, including:
Profound fatigue and weakness.

Unusual muscle pain.

Breathing difficulties.

Abdominal pain accompanied by nausea, vomiting, or diarrhea.

Cold sensation in your arms and legs.

Dizziness or lightheadedness.

Slow or irregular heartbeat.

Sudden and significant changes in your overall health condition.
Additional Serious Conditions to Be Aware Of:
Pancreatitis:

Some patients have reported severe cases of pancreatitis, which can be life-threatening.

Bullous Pemphigoid:

Certain individuals using Janumet have experienced a skin condition called bullous pemphigoid, potentially requiring hospitalization. Inform your doctor promptly if you notice blisters or skin erosion.
Your healthcare provider may advise discontinuing Janumet or dosage adjustments (Janumet XR 50 mg/1000 mg) in response to these symptoms. It is crucial to maintain open communication with your doctor and promptly report any unusual reactions or changes in your health status during Janumet use. Your safety and well-being are our top priority.
Side Effects of Janumet XR
Common Side Effects:
Low blood sugar (hypoglycemia) when used with specific medications like insulin or a Sulfonylurea

Upset stomach, gas, and indigestion

Weakness

Nausea and vomiting

Diarrhea

Headache

Stuffy or runny nose, and sore throat

Upper respiratory infection

Lactic acidosis
Uncommon Side Effects:
Fast heartbeat

Blurred vision

Dizziness

Shakiness

Confusion

Increased hunger

Slurred speech

Chills

Cool, pale skin

Anxiety

Seizures
Remember to discuss any side effects with your healthcare provider, even if they seem minor. This list does not cover all possible side effects. If you experience any concerning symptoms, consult your doctor for appropriate medical advice.
Interactions
These are the interactions with Janumet XR (Janumet XR 50 mg/1000 mg):
Cardiovascular risk

Pancreatitis

Renal dysfunction

B12 deficiency

Hypoglycemia

Lactic acidosis
Please note that these interactions highlight potential concerns; consulting your healthcare provider for personalized information and guidance is crucial.
Frequently Asked Questions
Is metformin a component of Janumet XR?
Certainly, Janumet XR is a prescription medication formulated with two essential diabetes drugs: sitagliptin (commonly known as JANUVIA®) and extended-release metformin. This combination provides a comprehensive approach to managing type 2 diabetes effectively. 
By working in tandem with a balanced diet and regular exercise, Janumet XR is specifically designed to help lower blood sugar (glucose) levels in adults diagnosed with type 2 diabetes. This unique blend of medications underscores its significance in diabetes management, offering patients a comprehensive solution for their health needs.
Can I Take Janumet XR 50 mg/1000 mg Twice a Day?
When it comes to the specific dosage of Janumet XR 50 mg/1000 mg, the recommended intake is once per day, preferably with a meal. Ensuring compliance with your healthcare provider's prescription is crucial for effective management. It's essential to follow the prescribed schedule diligently and take Janumet XR as directed. If prescribed two tablets of Janumet XR, take them simultaneously with a meal.
When taking Janumet, what should you avoid?
If a patient is prescribed Januvia or Janumet alongside medications that can lead to hypoglycemia or deficient blood sugar levels, like sulfonylureas or insulin. Patients using it must take caution to avoid excessive lowering of blood sugar. It is crucial to be mindful of potential drug interactions, such as with Digoxin in the case of Januvia. Additionally, the consumption of alcohol can significantly heighten the risk of lactic acidosis when taking Janumet.
When is the optimal time to take Janumet, in the morning or at night?
Take Janumet XR once daily with a meal to minimize the possibility of an upset stomach. Take Janumet XR with your evening meal. Ensure strict adherence to your doctor's instructions regarding the dosage and timing of Janumet XR to achieve the best results for your treatment.
Our Guarantee
PolarBearMeds.com will provide the lowest cost to buy Janumet XR online from Canada. We guarantee your medications will be shipped from a Licensed Canada Pharmacy Online. Get your Janumet XR at a significant discount! Our affordable insulin products are swiftly shipped from Canada right to your doorstep. To order it online at a cheap Janumet XR price from a reputable Canadian pharmacy, call our toll-free number at 1-888-779-2193.