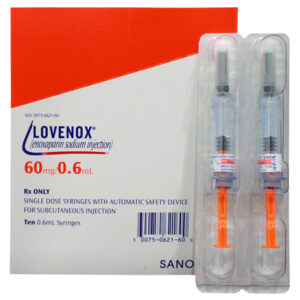 What is Lovenox (enoxaparin)?
Lovenox, also called enoxaparin, is used prophylactically and therapeutically to treat deep vein thrombosis (DVT) and ischemic complications of unstable angina and myocardial infarction.
How does Lovenox work?
Lovenox (enoxaparin) is a low molecular weight heparin that acts as an anticoagulant by inhibiting clotting factor Xa and binding to antithrombin III (AT-III). The complex formed by Lovenox and AT-III irreversibly inhibits factor IIa (thrombin). Enoxaparin preferentially inhibits factor X.
Dosage
Lovenox is a bright to pale-yellow liquid that is soluble in the following dosage forms and strengths:
100 milligrams per milliliter concentration
150 milligrams per deciliter concentration
The dosage depends on the patient. For deep-vein thrombosis (DVT), the daily dose is generally 40 mg or 30 mg every 12 hours. The dosage for most other uses is 1 mg per kilo of body weight every 12 hours.
How to Use
Lovenox is commonly administered as a subcutaneous injection but can also be given intravenously under medical supervision. It must not be injected into a muscle.
Use a tuberculin syringe when using multiple-dose vials to withdraw the proper amount of the drug.
Lovenox prefilled syringes and graduated prefilled syringes are intended for single, one-time use.
Subcutaneous injection
To learn injection techniques, ask your doctor or your pharmacist.
Storage
Store at 25°C (77°F) with a temperature excursion between 15°C-30°C (59°F-86°F). Please send cold packs with frozen gel packs inside. Save in the original container or packaging until ready for use. Do not store each vial for more than 28 days after the first use.
Overdosage
If overdosed on Lovenox, seek emergency medical attention due to the risk of hemorrhagic complications. Proteamine sulfate is an antidote for Lovenox and other low molecular weight heparins that require intravenous infusion under medical care. It is necessary to know the amount and when it was injected so medical staff can determine how much protamine sulfate is needed.
Side Effects
A range of side effects may result from the test. Some common side effects include:
Serious side effects are possible with Lovenox. Should any of these symptoms or signs of a serious side effect occur, contact your doctor immediately.
This is by no means a comprehensive list of all possible side effects. Contact your pharmacist or doctor for more information.
Warnings & Precautions
Boxed warning
Hypotension and respiratory depression can occur in patients who are allergic to low molecular weight heparins or heparinoids and are administered neuraxial anesthesia or receive spinal puncture. These complications can result in long-term or permanent paralysis.
Other Warnings and Precautions
Increased Risk of Hemorrhage
Use Lovenox with extreme caution in conditions with increased risk of hemorrhage, such as bacterial endocarditis, congenital or acquired bleeding disorders, active ulcerative and angiodysplastic gastrointestinal disease, hemorrhagic stroke, or shortly after brain, spinal, or ophthalmological surgery, or in patients treated concomitantly with platelet inhibitors.
Increased Risk of Bleeding following
Percutaneous Coronary Revascularization Procedures
To prevent excessive bleeding following the use of vascular instrumentation to treat unstable angina, nonQ-wave myocardial infarction, or acute ST-segment elevation myocardial infarction, follow instructions precisely regarding the timing of Lovenox dosing.
Increased Risk of Bleeding in Patients with Concomitant Medical Conditions
Lovenox should be used with caution in patients with a bleeding diathesis, uncontrolled arterial hypertension, or a history of recent gastrointestinal ulcers, diabetic retinopathy, renal dysfunction, and hemorrhage.
Risk of Heparin-Induced Thrombocytopenia with or without Thrombosis
Lovenox may induce heparin-induced thrombocytopenia (HIT) or heparin-induced thrombocytopenia with thrombosis (HITTS).
Interchangeability with other Heparins
Lovenox cannot be used interchangeably (for unit for unit) with heparin or other low molecular weight heparins as they differ in the manufacturing procedure, molecular weight distribution, anti-Xa and anti-IIa activities, units, and dosage.
Increased Risk of Thrombosis in Pregnant Women with Mechanical Prosthetic Heart Valves
Lovenox may be used to prevent valve thrombosis in pregnant women with mechanical prosthetic heart valves.
Risk of Serious Adverse Reactions in Infants due to Benzyl Alcohol Preservative
Infants treated with benzyl alcohol-preserved drugs, such as Lovenox multiple-dose vials, are at risk of severe and fatal reactions, such as gasping syndrome.
Drug Interactions and Other Interactions
If possible, use only medications that do not increase the risk of bleeding during treatment with Lovenox. Examples of such medications are anticoagulants, platelet inhibitors such as acetyl salicylic acid, salicylates, NSAIDs (including ketorolac tromethamine), dipyridamole, and sulfinpyrazone.
Contraindications
Lovenox is contraindicated in patients with any of these conditions:
Frequently Asked Questions
What is Lovenox used for?
Lovenox is administered to patients with blood clots in the legs or to patients who are at risk of heart attacks.
How does Lovenox work?
Lovenox is a low molecular weight heparin (LMWH) that prevents blood clots by interfering with special clot-forming factors (factor Xa and IIa).
How should I take Lovenox?
Lovenox can be injected into a subcutaneous region. Never inject Lovenox into a muscle.
Use a tuberculin syringe when withdrawing Lovenox from multiple-dose vials to precisely remove the correct amount of drug.
Lovenox prefilled syringes and graduated prefilled syringes are for single, one-time use.
Subcutaneous injection
For detailed instructions on how to inject the medication, see your pharmacist or doctor.
Should I push out the air bubble from the Lovenox syringe?
Be mindful not to push the air bubble out of pre-filled Lovenox syringes because this can lose some of the medication.
Who should not use Lovenox?
Lovenox cannot be used in patients with any of the following complications:
Active major bleeding
HIT history within the past 100 days.
History of reactions to enoxaparin sodium (e.g., redness, itching, other signs of allergic reaction)
History of responses to heparin or pork products.
History of responses to the multiple-dose formulation of benzyl alcohol (which is only in the version of Lovenox).
Is Lovenox the same as heparin?
Lovenox is a low molecular weight heparin that is similar to heparin. Lovenox targets a more specific clotting factor than does heparin. Lovenox is generally better tolerated by patients and typically requires fewer injections than with heparin.
What are the common side effects of Lovenox?
The common side effects of Lovenox may include the following:
Nausea
Irritable bowel syndrome
Anemia
There is confusion
Pain around the site of injection
This is only a partial list of possible side effects of Lovenox. Contact your doctor or pharmacist for more information.