Buy Tresiba FlexTouch Pens From Canada Online
Each 15ml is a package of 5 x 3ml pens
Product Details
What Is Tresiba FlexTouch 100 Unit Ml?
Tresiba FlexTouch 100 Units/ml stands out as a prolonged-release insulin variant, scientifically recognized as insulin degludec.
Here Are Some Key Features of Tresiba insulin Pen
Insulin Type:

Tresiba FlexTouch is formulated with degludec insulin, ensuring sustained blood sugar control.

Duration of Action:

This insulin variant operates slowly and continuously, providing effects that last for an extended period of up to 42 hours.

Usage:

Tresiba FlexTouch 100 Units/ml is primarily used to enhance basal blood sugar levels, contributing to overall glycemic management.

Dosage Strengths:

Available in 100 and 200 units/ml concentrations, offering flexibility in dosing.

Packaging:

Tresiba FlexTouch comes in convenient single-use insulin pens, each containing 3 ml of the Tresiba solution for injection. Each pack consists of 3 Tresiba insulin pens, ensuring ease of use and accessibility.
What Is Tresiba FlexTouch 100 Unit Ml Used For?
Tresiba FlexTouch 100 Unit/ml is a vital component of diabetes treatment plans, playing a crucial role in stabilizing blood glucose levels. It is specifically tailored for individuals with Type 1 diabetes and some instances of Type 2 diabetes. This degludec insulin therapy is designed to be used alongside fast-acting insulin, effectively mitigating post-meal blood sugar spikes. It is important to note that Tresiba FlexTouch should not be utilized for managing diabetic ketoacidosis.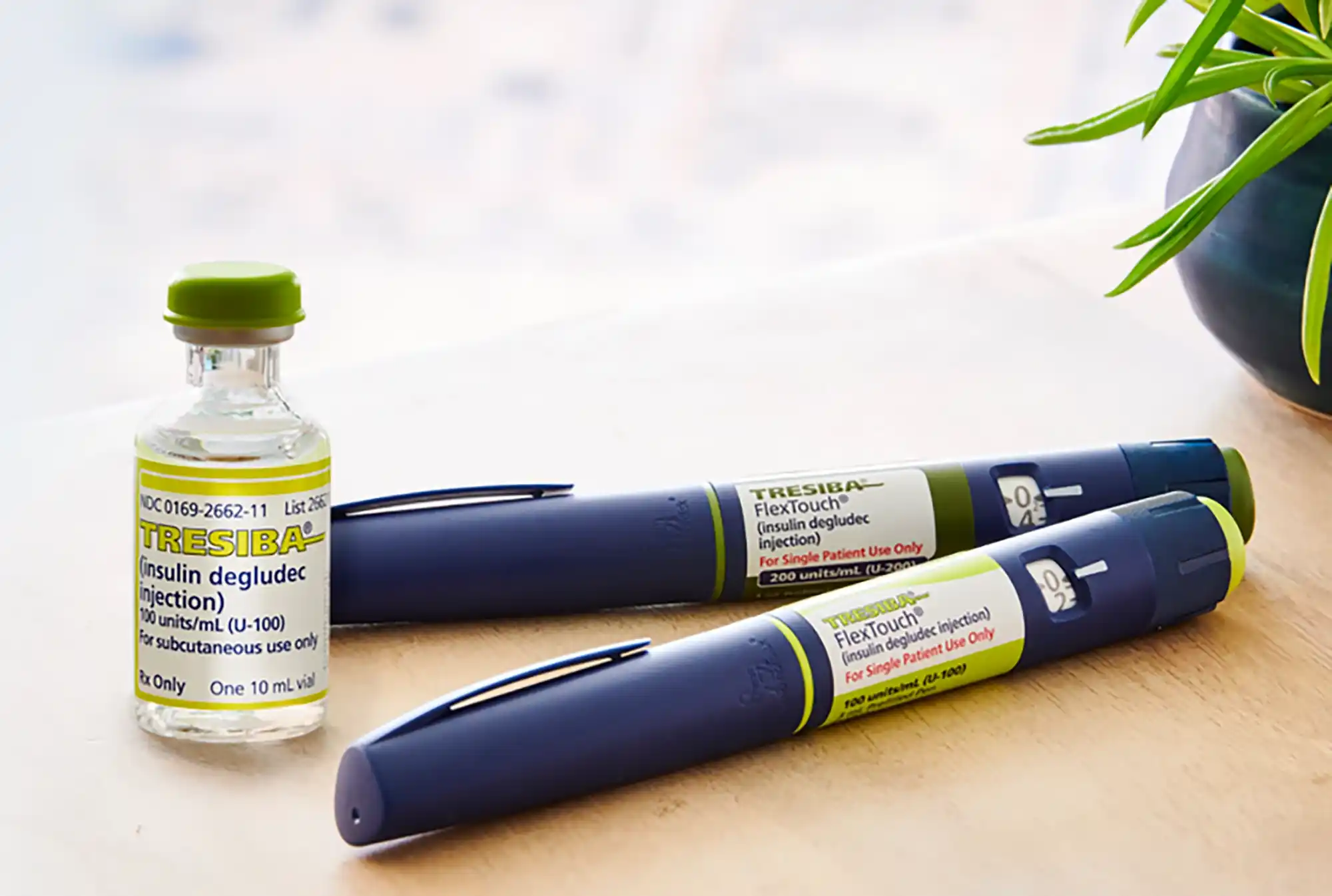 Tresiba Dosing and Administration Guidelines
Important Administration Instructions
Always check insulin labels before administration.

Ensure that the solution is free of particulate matter and discoloration before using Tresiba. Use Tresiba only when the solution is clear and colorless.

The Tresiba injection should be administered subcutaneously into the abdomen, upper arm, or thigh.

Alternate injection sites within the same area to minimize the possibility of developing lipodystrophy & localized cutaneous amyloidosis. Refrain from selecting areas with pre-existing lipodystrophy & localized cutaneous amyloidosis.

Increase blood glucose monitoring frequency during insulin regimen changes.

For pediatric patients needing less than 5 units, use the Tresiba U-100 vial.

Do not administer Tresiba intravenously or via an insulin infusion pump.

Do not dilute or mix Tresiba with other insulin or solutions.

Use Tresiba FlexTouch pens cautiously in visually impaired patients relying on audible clicks.
General Dosing Instructions
Tresiba is available in U-100 and U-200 concentrations.

U-100: Delivered in single-use FlexTouch pens (up to 80 units/injection) and multiple-dose vials.

U-200: Available in single-use FlexTouch pens (up to 160 units/injection).

The dose window displayed on FlexTouch pens indicates the number of units to be delivered. No dose conversion is required.

Adults: Subcutaneous injection once daily at any time.

Pediatric Patients: Daily subcutaneous injection at the same time.

It is important to customize the dosage according to the blood glucose results, the glycemic control goal, and metabolic requirements.

Recommended days between dose increases: 3 to 4 days.

Adjust doses with changes in physical activity, meal patterns, renal/hepatic function, or during illness.

For missed doses, inject during waking hours with at least 8 hours between consecutive Tresiba injections.

In type 1 diabetes, use Tresiba concurrently with short-acting insulin.
Starting Dose for Insulin Naïve Patients
Type 1 Diabetes:

Approximately one-third to one-half of the total daily insulin dose; the remainder is short-acting insulin.

Type 2 Diabetes:

10 units once daily for insulin-naïve patients.

Switching to Tresiba from Other Insulin Therapies:

Adjust doses to minimize hypoglycemia risk.

Pediatric Patients (1 Year and Older):

Start at 80% of the total daily long or intermediate-acting insulin dose to prevent hypoglycemia.
Tresiba Dosing Forms & Strengths
Tresiba is provided as a colorless (clear) solution for injection, available in the following formulations:
100 units/mL (U-100):
3 mL FlexTouch prefilled pen (single patient use) 

10 mL (multiple dose vial)
200 units/mL (U-200):
3 mL FlexTouch prefilled pen single patient use 
Tresiba Side Effects
Tresiba FlexTouch Pens can lead to severe, life-threatening side effects, including:
Low Blood Sugar (Hypoglycemia):

Signs of low blood sugar may encompass anxiety, irritability, mood changes, dizziness, sweating, confusion, and headache are Tresiba side effects.

Low Potassium Levels:

This medication may cause low potassium in your blood (hypokalemia).

Heart Failure Risk:

In some cases, when taken with thiazolidinediones (TZDs), Tresiba can lead to

heart failure

, even if you have no prior history of heart issues. Seek medical attention if you experience symptoms like tiredness, swelling of ankles or feet, shortness of breath or sudden weight gain.
Additionally, your insulin dose might need adjustments due to changes in physical activity, stress, diet, weight fluctuations, or illness. Common side effects include injection site reactions, itching, rash, whole-body allergic reactions, skin changes at the injection site (lipodystrophy), weight gain, and swelling in hands and feet.
Benefits of Tresiba FlexTouch 100 Unit/ml
Tresiba FlexTouch pens (Insulin Degludec) stand out for their user-friendly design, offering greater ease of use compared to other injection pens. With precise dosing capabilities, these pens enhance accuracy in insulin administration. Moreover, Tresiba's extended activity over a day provides patients the flexibility to dose according to their schedules. Notably, this basal insulin has demonstrated a lower incidence of hypoglycemia when compared to other similar long-acting insulins, making it a preferred choice for many individuals managing diabetes effectively.
Important Safety Information for Tresiba
Avoid Sharing:

Do not share your Tresiba FlexTouch with others, as it may cause serious infections. Avoid sharing needles or syringes with anyone, as it can lead to severe infections.

Who Should Not Take Tresiba:

Individuals experiencing low blood sugar episodes or those allergic to Tresiba or its ingredients should not take this medication.

Inform Your Healthcare Provider:

Prior to taking Tresiba FlexTouch Insulin, inform your healthcare provider about your medical conditions, pregnancy, breastfeeding status, and any medications, vitamins, or supplements you are taking.

Discuss Low Blood Sugar Management:

Have a conversation with your healthcare provider about managing low blood sugar effectively.
Remember, always follow your healthcare provider's guidance and seek immediate medical attention if you experience severe symptoms or reactions.
Drugs or Substances Interact with Tresiba (Insulin Degludec)
All medications and supplements you are taking should be disclosed to your physician. Tresiba may interact with:
ACE inhibitors

Other antidiabetic agents

Somatostatin analogs

Monoamine oxidase inhibitors

Beta-blockers

Pentamidine

Propoxyphene

GLP-1 receptor agonists

Sulfonamide antibiotics

Isoniazid

Other insulin products

Corticosteroids

SGLT-2 inhibitors

Disopyramide

Diuretics

Fibrates

Estrogens

Oral contraceptives

Pentoxifylline

Glucagon

Danazol

Thyroid hormones

DPP-4 inhibitors

Lithium salts

Progestogens

Pramlintide

Protease inhibitors

Sympathomimetic agents

Fluoxetine

Angiotensin II receptor blocking agents

Phenothiazines

Salicylates

Atypical antipsychotics

Clonidine

Guanethidine

Reserpine

Alcohol
Frequently Asked Questions
Can Tresiba FlexTouch be used for type 1 and type 2 diabetes?
Tresiba is an FDA-approved insulin aimed at managing blood sugar levels in people with both type 1 and type 2 diabetes. Suitable for adults and children aged 1 year and above, it is classified as a long-acting insulin. Tresiba, available in the form of Tresiba FlexTouch 200 units/ml, works steadily throughout the day to effectively control blood sugar levels between meals and overnight. If you want more information about Tresiba FlexTouch 200 units/ml cost, call us at 1-888-779-2193 toll-free.
Can I drink alcohol while using Tresiba FlexTouch?
Consuming alcohol while on this medication heightens the potential for a significant drop in blood sugar levels (hypoglycemia). If you encounter symptoms such as cold or clammy skin, anxiety, tremors, rapid heartbeat, confusion, dizziness, or excessive sweating, promptly contact your healthcare team.
Where can I buy Tresiba at the best price from Canada?
Polar Bear Meds offers the best cost of Tresiba FlexTouch Pens. We provide genuine medications from the most trusted and best Canadian online pharmacy at very affordable prices, delivered safely to your doorsteps. Contact us to get your Tresiba FlexTouch Pens from a Canadian pharmacy online with fast shipping!
Can Tresiba (insulin degludec injection) be used with other diabetes medications?
Tresiba (insulin degludec injection) can be prescribed alongside diabetes oral medications or rapid-acting insulins. It's important to note that when taken with thiazolidinediones (TZDs), some individuals might experience heart failure, regardless of their history of heart issues.
Our Guarantee
PolarBearMeds.com will provide the lowest Tresiba FlexTouch price from Canada. We guarantee your order will be shipped from a Licensed Canadian Pharmacy Online. You can buy Tresiba insulin pens and other medications from our online pharmacy. Our discount Insulin degludec injections are shipped from Canada to your doorsteps. To order this medication online at a cheap Tresiba FlexTouch 200 units/ml price from a Canadian pharmacy, call us at 1-888-779-2193 toll-free.
Reviews