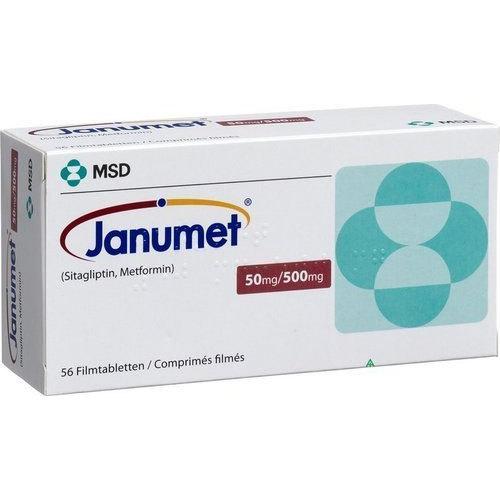 Product Description
JANUMET
Janumet is formed by combining metformin and sitagliptin. Both of these are oral medications for treating diabetes and help in controlling blood sugar levels.
The work of Metformin is to decrease glucose (sugar) level production in the liver and also decrease the absorption of glucose by the intestines. Likewise, the work of Sitagliptin is to regulate the levels of insulin that are produced by your body after you have consumed food.
Janumet is taken in combination with proper diet and exercise to enhance blood sugar control in adults who have been diagnosed with type 2 Mellitus. It should not be taken by patients with type 1 diabetes.
Warnings
If you have severe renal disease or diabetic ketoacidosis, you shouldn't use Janumet 50 mg 500 mg tablet (call your doctor for treatment with insulin).
Lactic acidosis is a dangerous condition that Janumet may contribute to. If you have even mild symptoms like muscle pain or weakness, numbness or coldness in your arms and legs, difficulty breathing, stomach pain, nausea, or vomiting, a slow or irregular heartbeat, dizziness, or a sense of extreme fatigue, get emergency medical attention.
Pancreatitis is a dangerous ailment that may also be brought on by Janumet. If you experience severe stomach aches with or without vomiting, contact your doctor straight away.
Prior to Using This Medication
If you are allergic to sitagliptin (Januvia) or metformin, or if you have severe renal problems, you shouldn't use the Janumet tablet.
Tell your doctor about any of the following to ensure that Janumet is safe for you:
Kidney Disease (You May Need to Have Your Kidney Function Evaluated Both Before and After Using This Medication);
Liver Illness
Heart Condition
Pancreatitis;
Elevated Blood Fat Levels Called Triglycerides;
or Gallstones
Alcoholism.
Lactic acidosis is a dangerous disease that can occur in certain metformin users. If you have liver or renal illness, congestive heart failure, underwent surgery, had a heart attack or stroke, are 65 years old or older, are dehydrated, or use a lot of alcohol, this may be more likely to occur. Discuss your risk with your doctor.
You may need to temporarily stop taking Janumet if you need to have surgery or any form of x-ray or CT scan that uses a dye that is released into your veins. Make sure your caretakers are aware that you are taking this medication in advance.
If you are pregnant or want to become pregnant, use Janumet according to your doctor's advice. The management of blood sugar throughout pregnancy is crucial, and each trimester may require a different dosage. High blood sugar can complicate pregnancy for both the mother and the child.
While taking this medication, breastfeeding might not be safe. Inquire with your doctor about potential risks. Also, if you are breastfeeding, your dosage requirements can change.
Anybody under the age of 18 should not use Janumet.
How to Take Janumet?
Just as directed by your doctor, take your Janumet 50 mg 500 mg tablet. Observe every instruction on the prescription medication label. On occasion, your doctor could adjust your dosage. Never use this medication in excess or in a lesser quantity, or for an extended period of time.
Administer Janumet tablet with food.
An extended-release tablet should not be chewed, crushed, or broken. Completely inhale it.
The body might not completely dissolve Janumet pills. You might find some of the tablet in your stool. This is a typical Janumet side effect and won't reduce the medication's effectiveness.
If you notice a tablet in your faeces on multiple occasions, call your doctor.
Hypoglycemia, or low blood sugar, might make you feel extremely hungry, lightheaded, agitated, perplexed, anxious, or unsteady. Eat or drink a fast-acting source of sugar to cure hypoglycemia right away (fruit juice, hard candy, crackers, raisins, or non-diet soda).
If you experience severe hypoglycemia, your doctor could advise you to get a glucagon injection kit. Make sure your family or close friends are familiar with how to administer this injection to you in a crisis.
Moreover, keep an eye out for symptoms of hyperglycemia, or high blood sugar, such as increased thirst or urination, blurred vision, headaches, and fatigue.
Stress, ailment, surgery, exercise, alcohol use, or skipping meals can all have an impact on blood sugar levels. Before altering your dosage or medication schedule, see your doctor.
A comprehensive treatment plan may also involve nutrition, exercise, weight management, routine blood sugar testing, and specific medical care in addition to Janumet. Pay strict attention to your doctor's recommendations.
There will be frequent blood tests required.
Keep your medication at room temperature away from heat and moisture.
Our Guarantee
PolarBearMeds.com will provide the lowest price for Janumet 50 mg 500 mg tablet from Canada. We guarantee your order will be shipped from a Licensed Canadian Pharmacy when you buy Janumet online. All our discount Insulin products are shipped quickly from Canada, straight to your door. To order this insulin medication online at a cheap discount from a Canada Pharmacy please call us at 1-888-779-2193 toll-free.