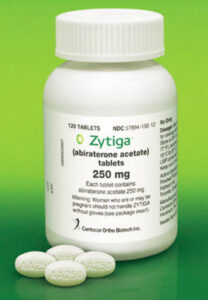 Product Description
ABOUT ZYTIGA
Zytiga is a medication used to treat metastatic prostate cancer in adult men (the prostate is a gland in the male reproductive system) (has spread to other parts of the body).
Prednisone or prednisolone are used with Zytiga in the following circumstances:
When medical castration (using drugs to stop the production of male hormones) with an androgen deprivation therapy has not worked or no longer works in men who have either no symptoms or only mild symptoms of the disease and who do not yet need chemotherapy (cancer medicines); when medical or surgical treatment has failed; when the cancer is newly diagnosed, high risk, and still sensitive to hormones; when Zytiga is then used in combination with a treatment called androgen deprivation therapy
The active ingredient in Zytiga is abiraterone acetate.
Prior to Using this Medication
Tell your doctor about all of your medical conditions before using Zytiga, especially if you:
– Have cardiac issues
– Have liver issues
– Have diabetes and a background of adrenal issues
– Possess a background of pituitary issues
– Are you undergoing any other prostate cancer treatments?
– Are expecting a child or intend to get pregnant. Zytiga might harm your unborn child and result in pregnancy loss (miscarriage). Women who are pregnant or women who may become pregnant shouldn't handle broken, crushed, or damaged Zytiga tablets without using protective gear like gloves.
– Possess a pregnant or possibly pregnant partner
– Men should use reliable contraception during treatment with Zytiga and for three weeks following the final dosage of Zytiga if they have female partners who are capable of becoming pregnant.
– Are now nursing or want to do so. It is unknown whether Zytiga enters breast milk.
Inform your healthcare practitioner about all of the prescription, over-the-counter, vitamin, and herbal supplements that you take, along with any other treatments or medications that you receive. Many different medications and Zytiga may interact.
Before starting or stopping any medication, you should speak with the healthcare professional who prescribed Zytiga.
Understand the medications you take. Maintain a list of them on hand to show your doctor and chemist whenever you receive new medications.
How to Take Zytiga?
Prednisone and Zytiga should be taken exactly as directed by your doctor.
Zytiga should be taken as directed, once daily. If necessary, your doctor might adjust your dosage.
Prednisone or Zytiga dosage should not be altered or stopped without first consulting a healthcare professional.
Zytiga pills should be taken once day on an empty stomach. Eat nothing for two hours prior to taking Zytiga and for one hour following.
Zytiga shouldn't be taken with food. Zytiga may be absorbed by the body in excess amounts if taken with meals, which could result in negative side effects.
Inhale full Zytiga pills. Don't chew or crush tablets.
Zytiga pills should be taken with water.
Prednisone or Zytiga missed doses should be taken the next day as directed. Inform your medical practitioner as soon as possible if you miss more than one dose.
Blood tests will be performed by your healthcare practitioner to look for any negative effects.
Our Guarantee
PolarBearMeds.com will provide the lowest price for Zytiga from Canada. We guarantee your order will be shipped from a Licensed Canadian Pharmacy Online. All our discount Insulin products are shipped quickly from Canada, straight to your door. To order this insulin medication online at a cheap discount from a Canada Pharmacy please call us at 1-888-779-2193 toll-free.